The Selling Power of Infographics
Presenters
Aleksandr Polyakov
Senior Designer
Years of experience as illustrator and graphic designer allows Aleksandr Polyakov to make right conclusions on how to leverage all kinds of visual content for attracting customers' eyes to advertised products and services. As a practicing graphic designer Aleksandr follows all the latest trends in his field of expertize to apply them in our company's projects and bring the best experience to our clients from all over the world.
Webinar date:
Thursday, April 25, 2013 - 10:00
Infographics are shareable and attention-catching content which in fact can influence your customers' purchase decisions and improve awareness of your brand. Inforgraphics are created for sharing and spreading any information you might want to share. Visually enhanced information is easier to digest especially if it is made in an unusual way, so people love visual content and any good infographic has a potential to reach up to millions of internet surfers and convert many of them into your customers. With such a viral power infographics seem to be one of the best ways to advertise your business and products. Lots of businesses try to wield this selling power today. In our free webinar we'll discuss how infographics help acquire more prospects, showcase your brand and products, and thus boost your sales.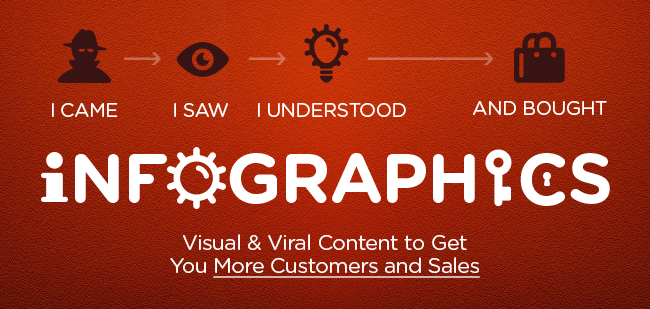 ---
Following the webinar that took place on April 25, 2013, we would like to share a summary of what was said during the event.
They say: "Knowledge is power"!
But how to make knowledge powerful? Especially when knowledge exists in the form of data! Tons of data! How to find sense? Tell a story? Share it with others! The answer is infographics!!! Data needs DESIGN!
Let's present the information in the form of colored circles.
Color and shape are very powerful ways of conveying and highlighting information. We can use color to show the relationship! Size to show quantity. Orientation to demonstrate change.
Design is a powerful tool which helps present any information even such inaccurate and vague data as: processes, hierarchy, anatomy, chronology.
Our big world, unfortunately, is overloaded with information which makes it very difficult to filter out the most important and essential data from the never stopping torrent of information.
On this slide you can see a great number of street ads. They are literally everywhere. It is very difficult to focus on one of them. Perhaps, it is interesting to look at some of them, but those myriads of ads we often see in one place do not seem to be very effective in evoking our immediate desire and need to buy something or accept the advertised offer. So there is no guarantee that information you want to share does not get lost in the entire flow of data today's people receive voluntarily or involuntarily in their day to day life.
Mitchell Kapor once said that getting information off the Internet was like taking a drink from a fire hydrant. That brings us to the conclusion that the Internet is a violent stream of advertising and information just as on the streets we have just seen on the slide above.
I'll help you figure out how to stand out in a stream and eventually convey your message to people
.
So you've got content. Now you need to understand what to visualize. Our plan is to create a good infographic and eventually share the message with others.
Obviously, the information you would like to share has to be interesting and compelling in order to draw people's attention to your brand or the content you offer with the future infographic.
You must share only true and reliable data (at the end of the presentation I'll give you some links to information storage websites).
Less text but more graphics is one of very important principles of creating infographics. Do your best to explain less with text and more with pictures and graphics.
There is a great website thisisindexed.com publishing some simple but cute and interesting infographic charts.
This chart is about startups.
First circle – fit in. Second circle – be different.
The middle intersection is a happy middle ground. Hot topic is what Steve Jobs once did, for example. The mobile phone has already been invented, and by adding some innovations like nobody did before, Steve had a hot topic.
The desire to attend Reunion is in direct proportion to post-graduation success. As you can see. No doubt, the more successful one becomes, the more desire one has to show it off.
And here is proportion between alcohol sales and UFO sightings. Sales are growing and the same is the case with UFO encounters.
So taking into consideration these simple graphics, having content and sense is enough for an informative sketch. Done! You can now bring it to investors, partners, etc. We are all businessmen and infographics can significantly save our time for searching and comprehending information.
So what to visualize?
I have divided infographics into a few types.
Editorial
Such infographics are used in newspapers and magazines to present problems for discussion. Here we can see beautiful and allegorical charts presented with cigarettes and coin stacks.
And here is an infographic about movie budgets and the number of actors' acting roles.
Fun & Entertaining
Fun & entertaining infographics show anything that causes positive emotions in people. In these examples you can see an infographic on a typical Android user presenting common clothing and gadgets Android users possess. Other example shows what is going on in the mind of hip-hop artist Kanye West.
And here is another good one. If web browsers were celebrities…
Infographics Based on Own Experience
The example shows an objective although half-joking comparison between MAC and PC users.
Flow Chart
The flow chart infographics look like an engaging game. One can spend long time choosing different answer options and comparing own results with those of friends.
All these examples are perfect attention grabbers on the Internet. Such inforgraphics are easy sharable. You infographic, if compelling enough, can be massively shared and thus effectively improve your brand awareness and increase conversion of your business. Of course, you should make sure that your infographic incorporates the key attributes of your brand such as company name, logo and website address. A successful infographics campaign can make your brand more likable and trustworthy in the eyes of your customers.
Creating Infographics
Things to remember:
Do not lose the point in the process of designing.

It is important to correctly position all the data without adding unnecessary elements. He came, he saw, he understood (and bought) – this is our motto when it comes to creating customer-appealing infographics. A minimum of actions for the maximum result.

Infographics are not illustrations.

It is important to understand that infographics are a tool of reaching out to people and making them quickly understand your message. Remember the motto I mentioned earlier "he came, he saw, he understood". This is the main purpose of infographics – making understand the message from the first glance. Illustrations should not be the basis of infographics. There are a goal and means to achieve this goal. Illustrations are one of means for visual enhancement of infographics.
Share Your Message!
Your message should give clues and provoke questions at the same time.
Here one can mention the principles of multi-level marketing: interest is the shell, the brand image is the core.
We thus need to generate people's interest in the brand and turn their needs into the tool of achieve goals. We should provoke questions like "Who are these guys who started the advertising campaign. What they do and have to offer? We must create and use infographics in such a way as to engage discussions around problems presented by them to guarantee their spread across the World Wide Web.
Social Networking.
It is already tried and true. A social network post with an attached picture has greater chances of being noticed. An interesting and meaningful infographic with an attractive design will always find its audience. Any such infographic has a viral potential which can certainly boost your conversions.
Comments: