Life of Steve Jobs in Images
There are people at QuartSoft's Marketing Department who believe that the best way to promote our web design and development business is being also creative outside of paid projects. Dmitriy Nesterov, marketing manager with amateur animation skills, and Helen Stoyka, QuartSoft's new designer and artist, decided to pay tribute to Steve Jobs in an unusual way. They wanted to create an animated biography of the great Apple founder.
If there had been no Steve Jobs the information technology industry would have probably been not that thriving as it is today. Without Jobs there would have not been millions of IT jobs all over the world. And our company most probably would have not been created and we would have never enjoyed so many wonderful things Steve Jobs helped bring to life. Apple Computer Inc. has not only given us revolutionary products such as computers Apple I, Apple II, Macintosh and gadgets like iPod, iPhone and iPad. The competition and partnership with Apple helped other big players such as Microsoft, IBM, Intel and others re-invent the information technology industry and open the door to the digital era. The influence of Jobs went beyond the technology when he became the CEO of Pixar Animation Studios. Pixar's breakthrough in computer-generated animation set the new standards of the industry and won millions of hearts with absolutely marvelous films like Toy Story, Monsters Inc., A Bug's Life, Finding Nemo and other animated movies of unsurpassed quality and creativity.
As employees of an IT company, QuartSoft staff couldn't help but express their enormous respect and gratitude to Steve Jobs. Two of them have made it in the form of an animated tribute that suggested creation of a big number of cartoon images showing the most important moments of Steve Jobs's life. We'd like to share those images here in our creative blog: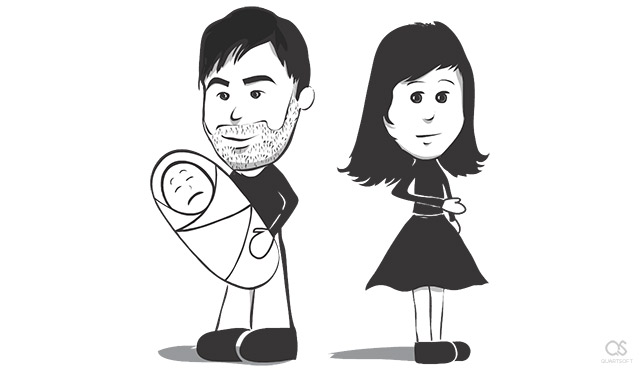 One of the first days of Steve's life with his biological mother and father in San Francisco (1955)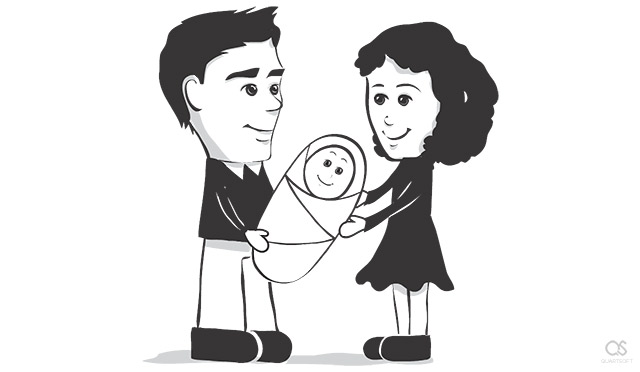 Baby Steve with his adoptive parents (1955)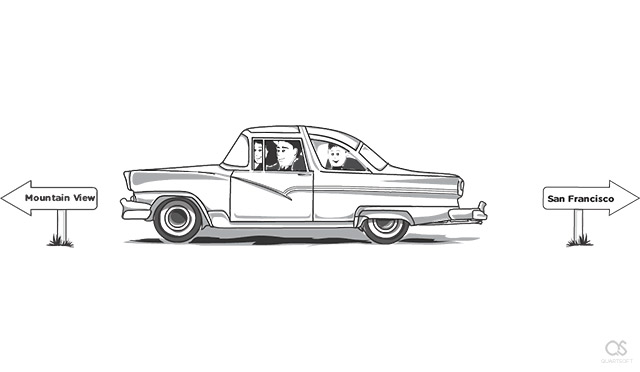 Jobs family moving from San Francisco to Mountain View, California (1961)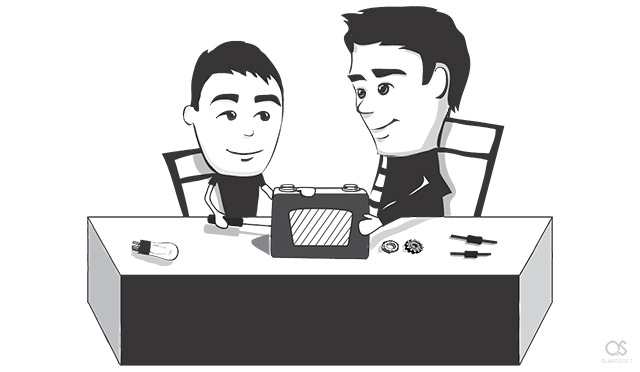 Steve's father is showing him how to work on electronics (1961)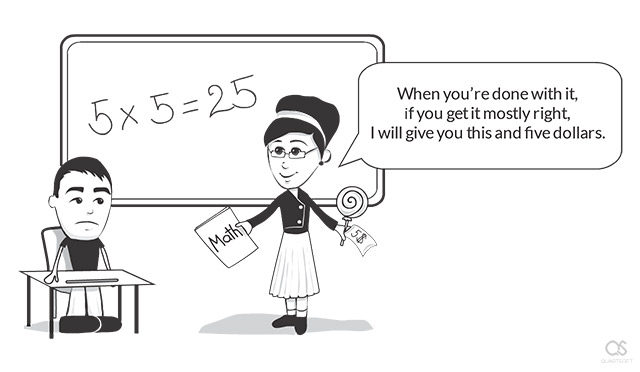 Steve's 4th-grade teacher Imogene Hill bribing him back into learning with candy and money (1965)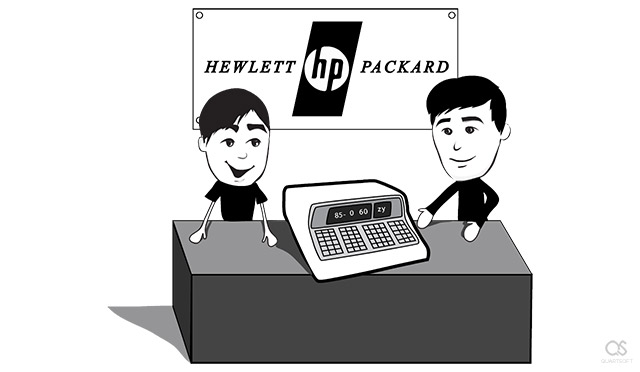 Steve Jobs looking at HP 9100A – the first desktop computer in his life (1968)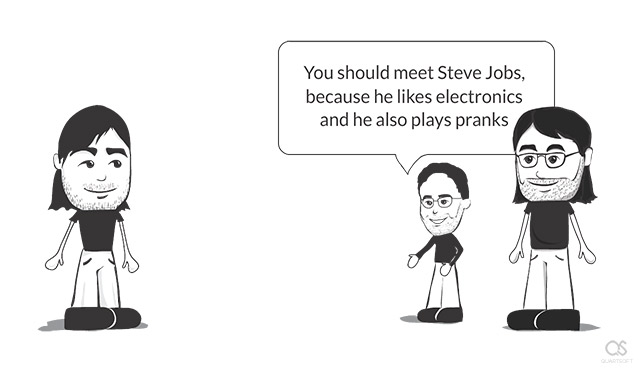 Bill Fernandez introducing Steve to his neighbor Steve Wozniak (1971)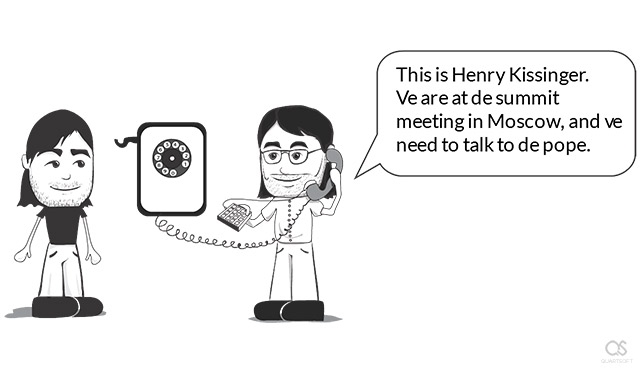 Steve Wozniak and Steve Jobs using a "blue box" designed by Wozniak to call Vatican City (1972)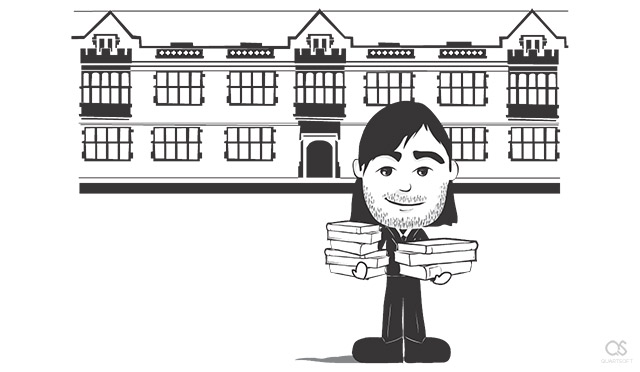 Steve Jobs enrolling at Reed College in Portland, Oregon (1972)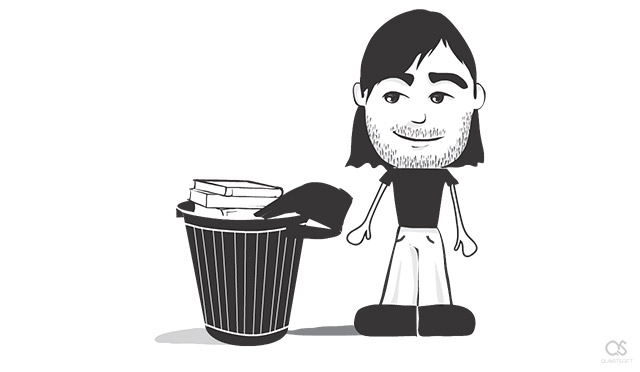 Steve dropping out of college (1973)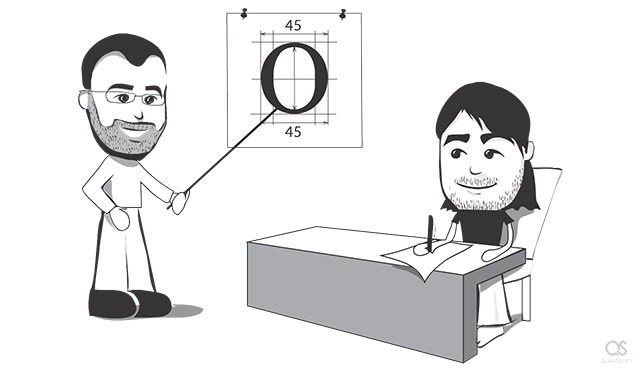 Steve still attending a course on calligraphy in college (1973)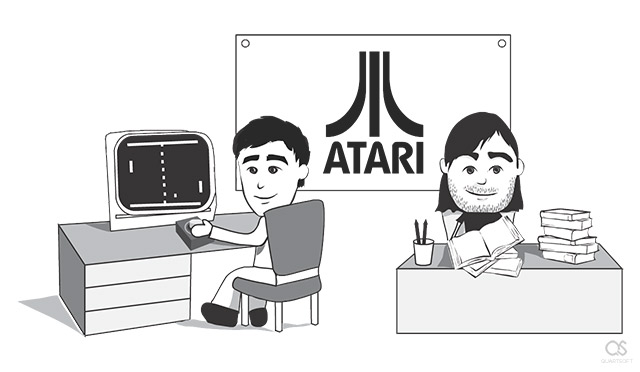 Steve's first job at Atari (1974)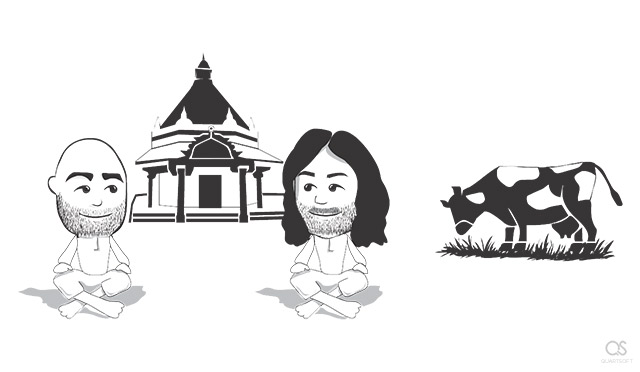 Steve Jobs's spiritual trip to India with his friend Daniel Kottke (1974)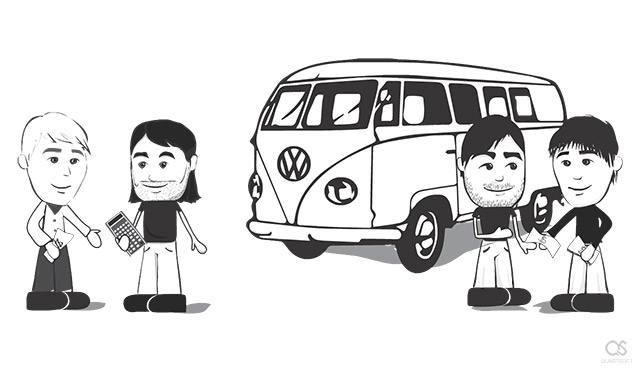 Steve Wozniak selling his expensive HP 65 calculator and Jobs his Volkswagen van to get the $1,000 they needed to print out Apple I circuit boards (1976)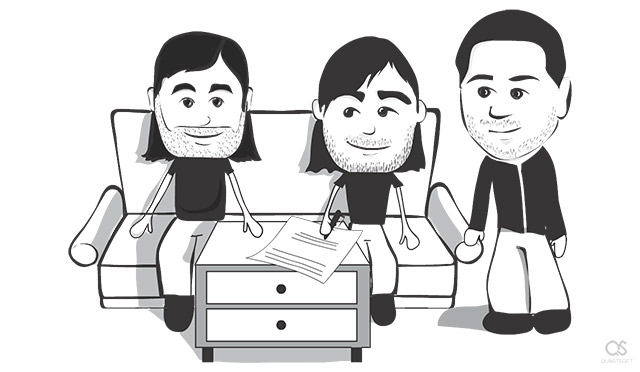 Steve Wozniak, Steve Jobs and Ronald Wayne founding Apple Computers (1976)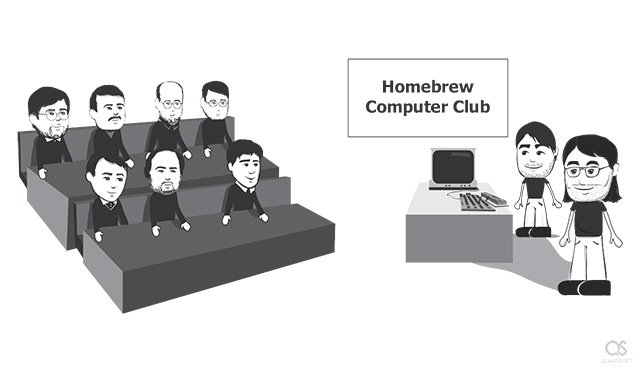 Jobs and Wozniak are presenting their computer to the Homebrew Computer Club (1976)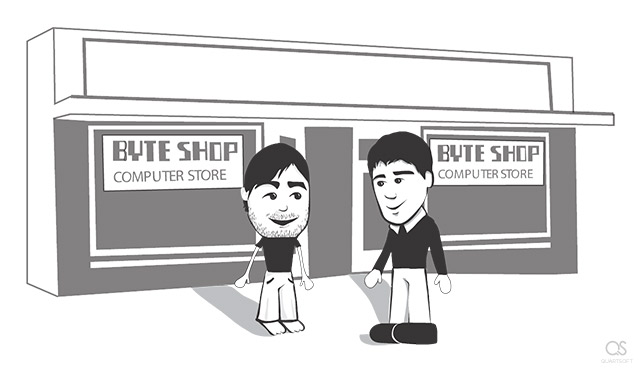 Steve Jobs talking with Paul Terrell about the possibility of selling the Apple I kits in his computer store (1976)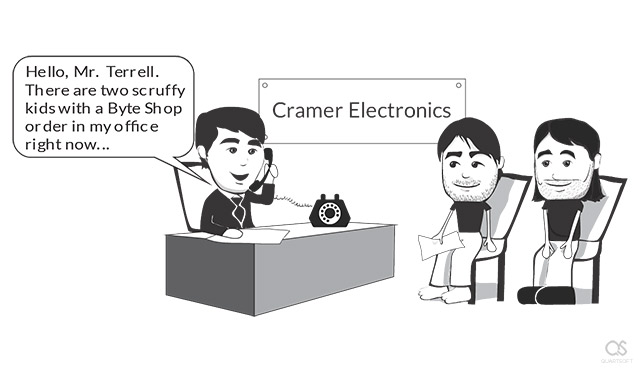 Jobs and Wozniak negotiating the purchase of $15,000 worth of parts needed to fill the Byte Shop order on credit at Cramer Electronics (1976)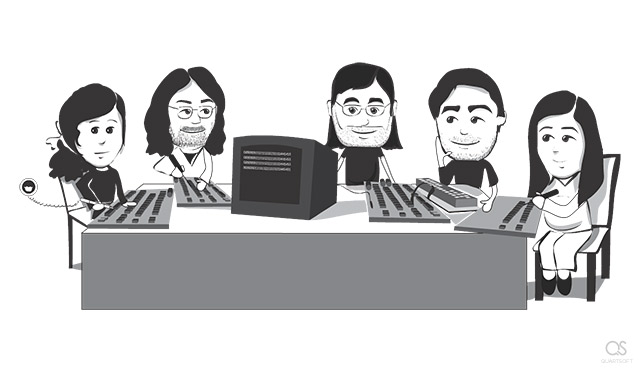 The Apple Computer team assembling 50 computers for The Byte Shop in the Jobs family garage (1976)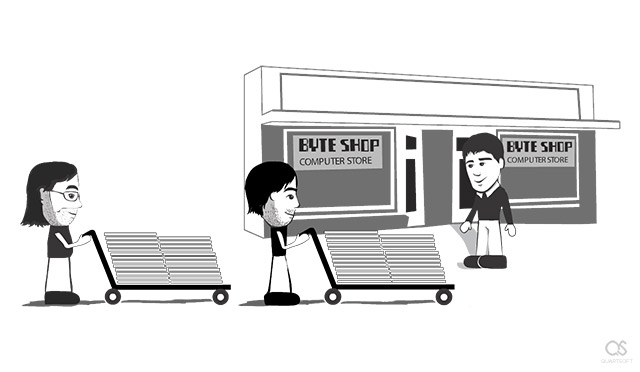 Steve Jobs delivering the first 50 Apple computers to Paul Terrell (1976)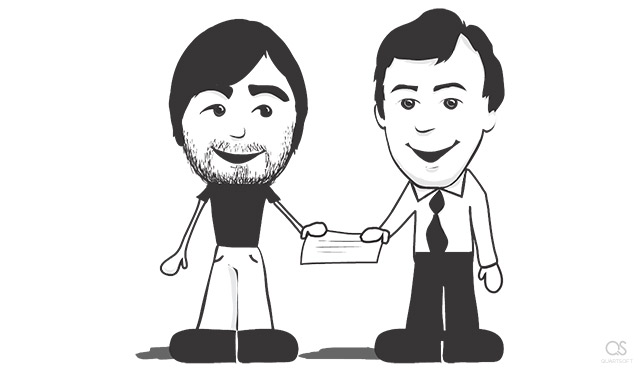 Mike Markkula investing $92,000 in Apple for about a third ownership in the company (1977)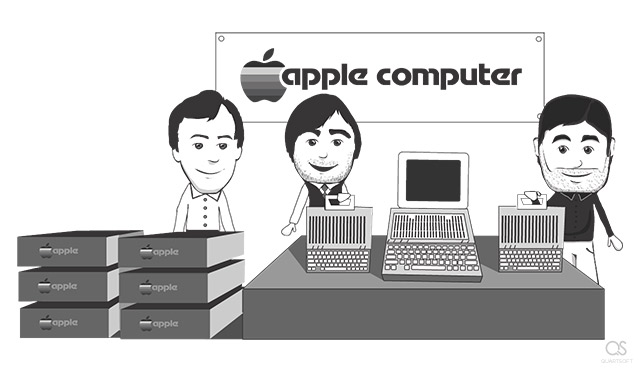 Steve Jobs presenting the Apple II at the first West Coast Computer Faire (1977)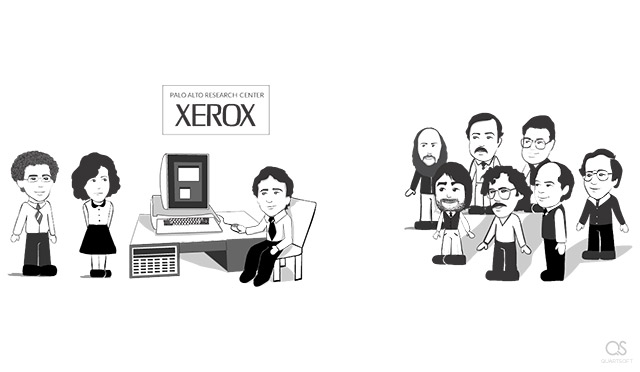 Steve Jobs is visiting Xerox PARC with a group of Apple engineers and executives in exchange for 100 000 Apple shares at about $10 each (1979)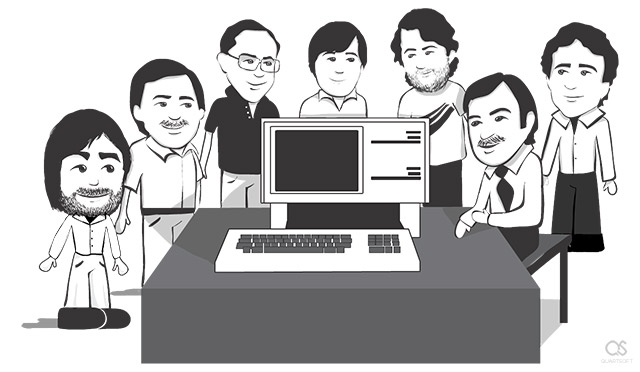 Jobs working with the Lisa project team: Paul Baker, Bruce Daniels, Chris Franklin, Rich Page, John Couch, Larry Tessler (1981)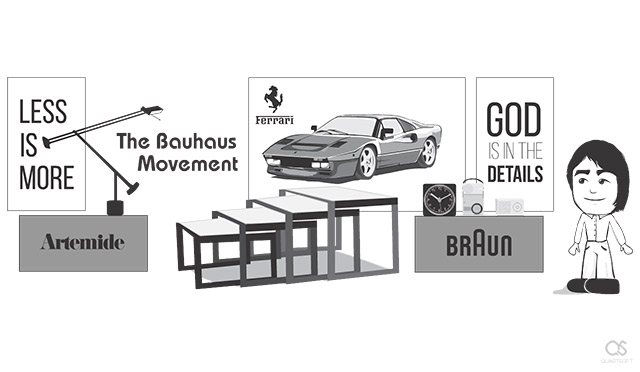 Jobs attending the annual International Design Conference in Aspen to get inspired with the spare and functional design philosophy of the Bauhaus movement (1981)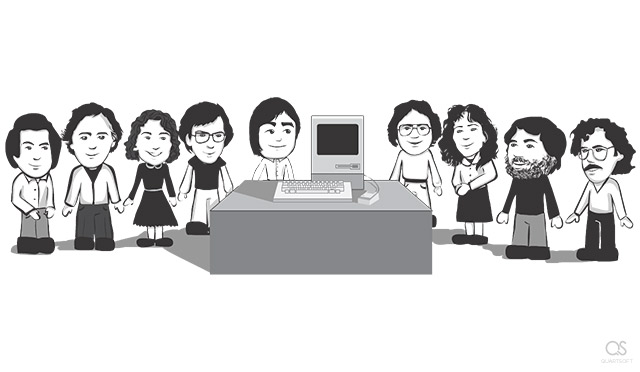 Steve Jobs working with the Macintosh project team: George Crow, Burrell Smith, Joanna Hoffman, Bud Tribble, Andy Hertzfeld, Susan Kare, Jerry Manock, Bill Atkinson (1983)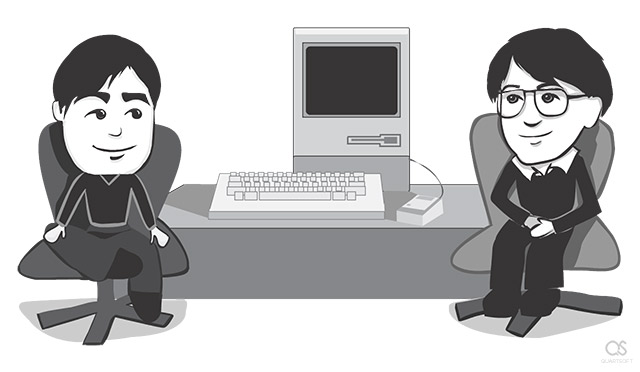 Steve Jobs and Bill Gates discussing the Mac GUI and future cooperation between Apple and Microsoft (1983)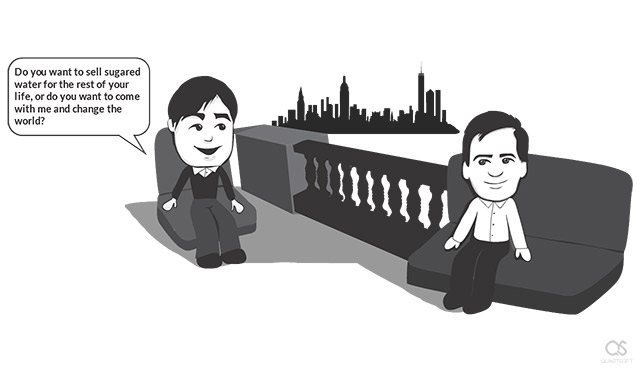 Jobs offering the position of Apple's CEO to Pepsi-Cola president John Sculley (1983)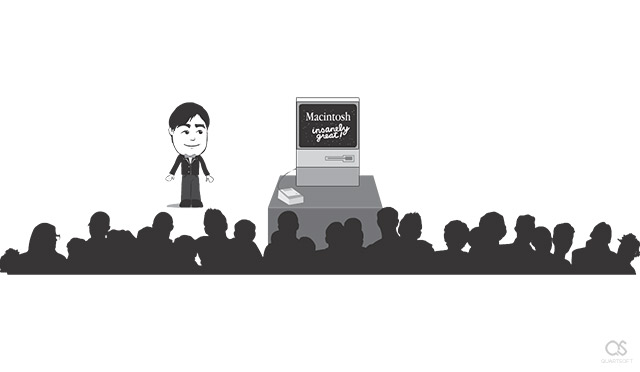 The Macintosh launch event (1984)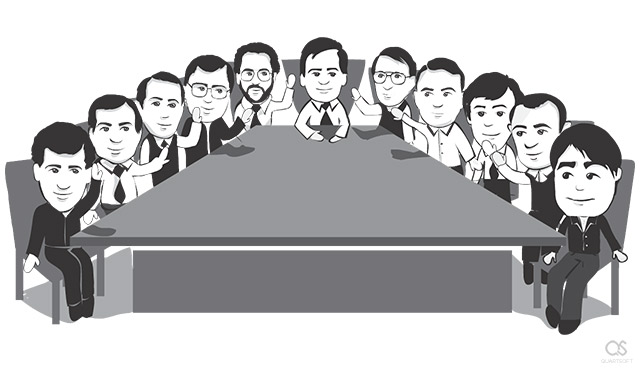 CEO John Sculley and the board firing Steve from Apple (1985) [board members: Bill Campbell, Philip S. Schlein, Peter O. Crisp, Al Eisenstadt, Del Yocam, John Sculley, Arthur Rock, Henry E. Singleton, Mike Markkula, Regis McKenna, Steve Jobs]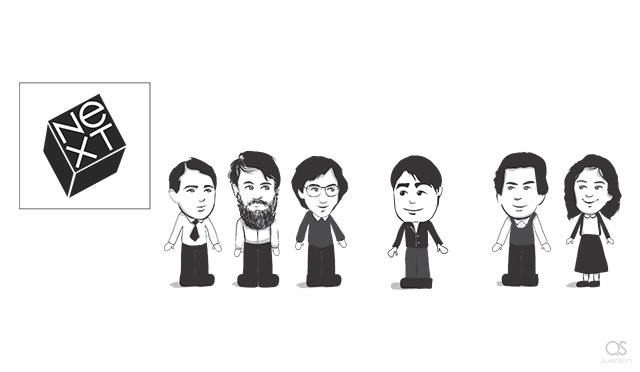 Establishing NeXT Inc. (1985)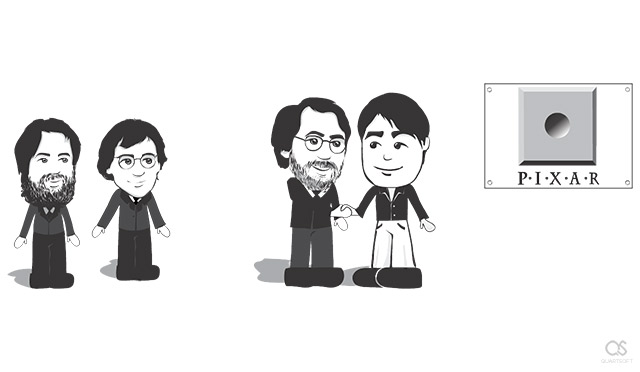 Buying the computer division of George Lucas' ILM for $10 million and incorporating it as Pixar (1986)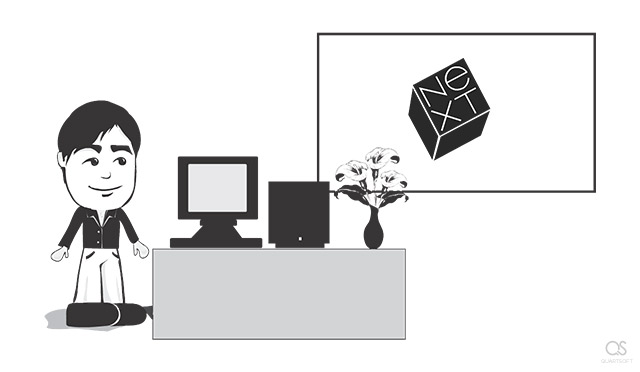 Jobs introducing the NeXTcube computer (1988)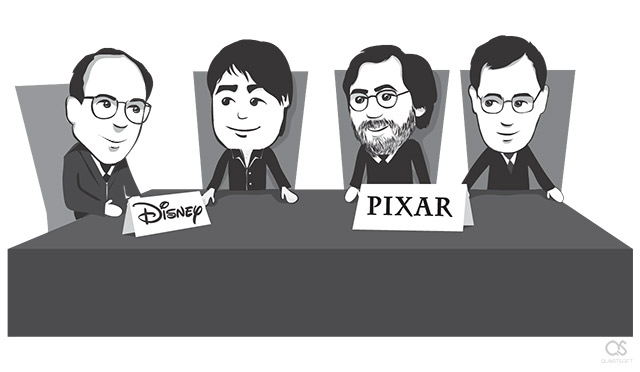 Negotiating a cooperation agreement between Pixar and Disney (1991)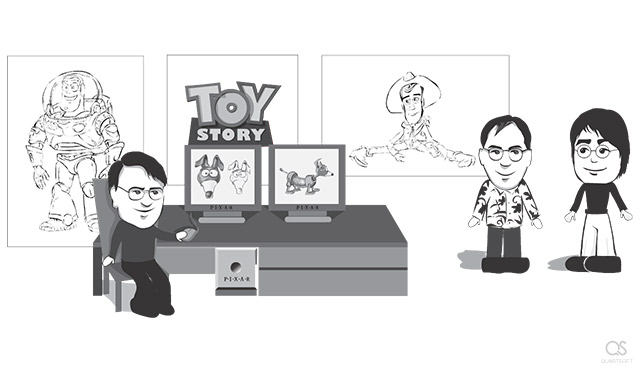 Visiting the Pixar team working on the Toy Story animated film (1995)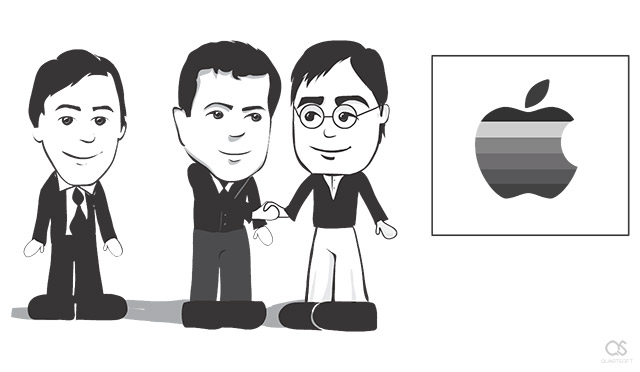 Steve Jobs returning to Apple as an "informal adviser" to CEO Gil Amelio (1996)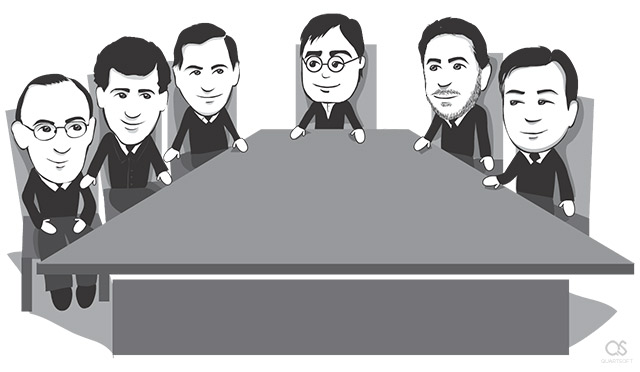 Becoming an interim CEO of Apple (1997) [board members: Jerry York, Bill Campbell, Ed Woolard, Steve Jobs, Larry Ellison, Gareth Chang]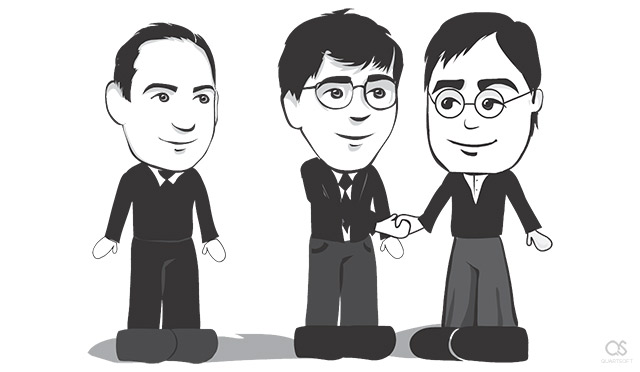 The peace pact between Apple and Microsoft and the Microsoft's $150 million investment in Apple (1997)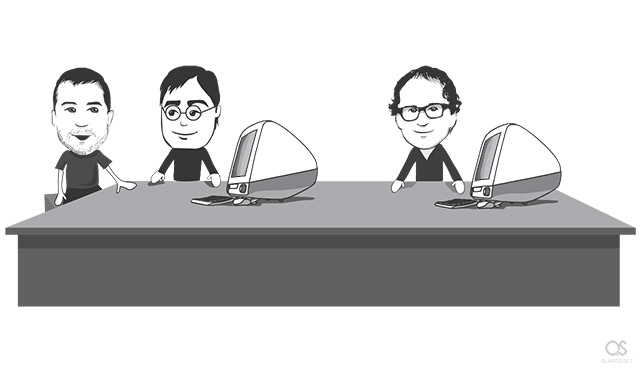 Jobs discussing design of the iMac computer with Jony Ive (1997)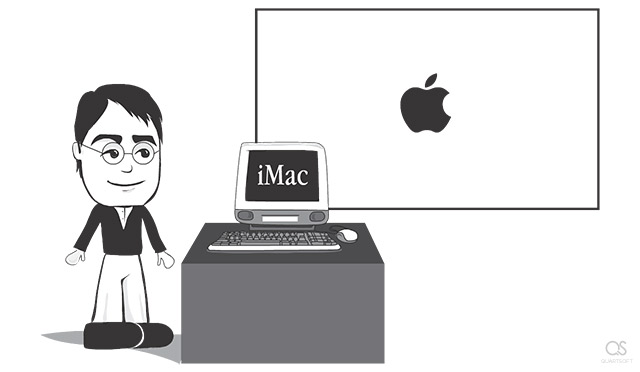 Steve Jobs introducing Apple's revolutionary iMac at the Flint Center auditorium in Cupertino (1998)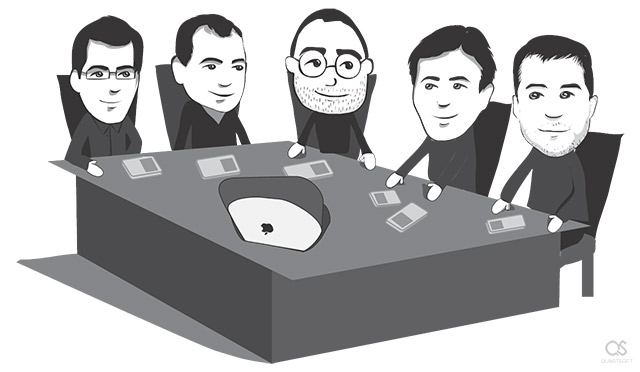 The iPod team (Jon Rubinstein, Tony Fadell, Steve Jobs, Phil Schiller, Jony Ive) sharing ideas on the product with Steve Jobs (2001)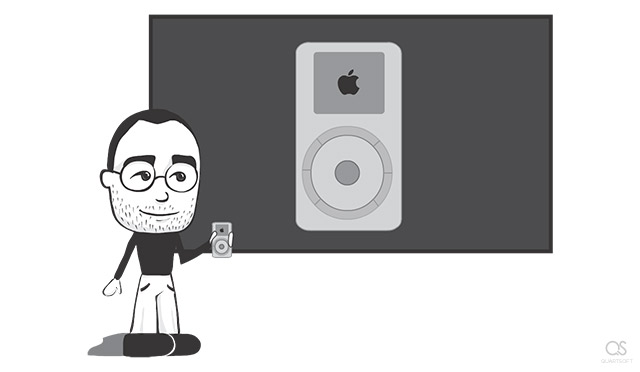 Steve Jobs introducing iPod (2001)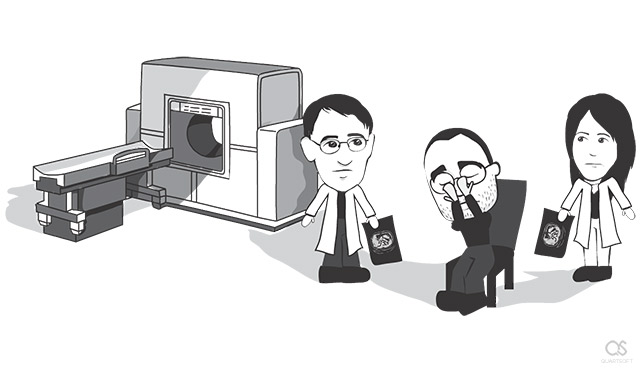 Steve Jobs is diagnosed with pancreatic cancer (2003)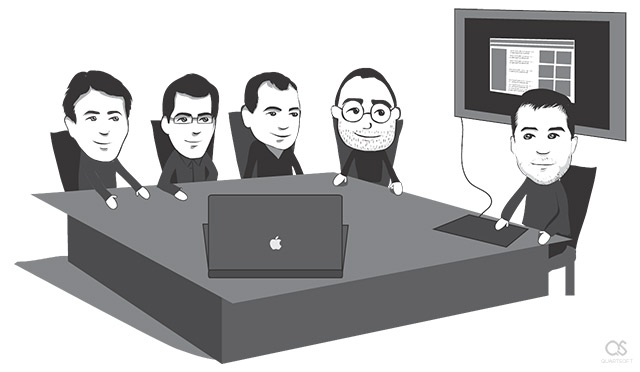 Jobs is on a secret meeting discussing the multi-touch technology for the future Apple's cell phone (2005)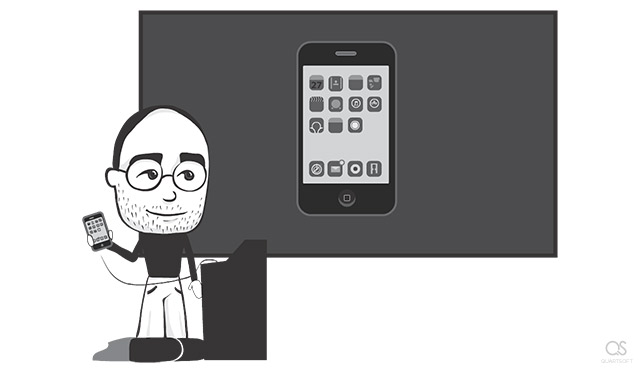 Steve Jobs introducing iPhone (2007)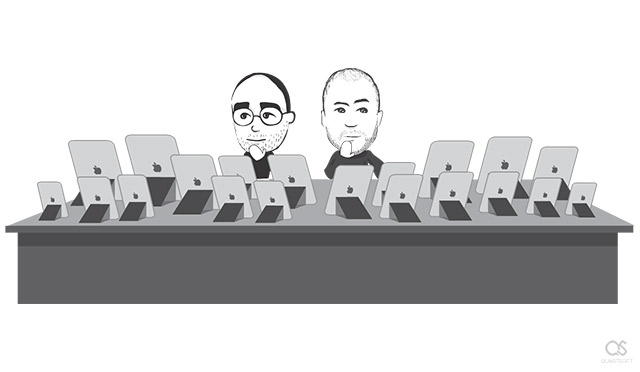 Steve Jobs selecting the right size of the future iPad (2007)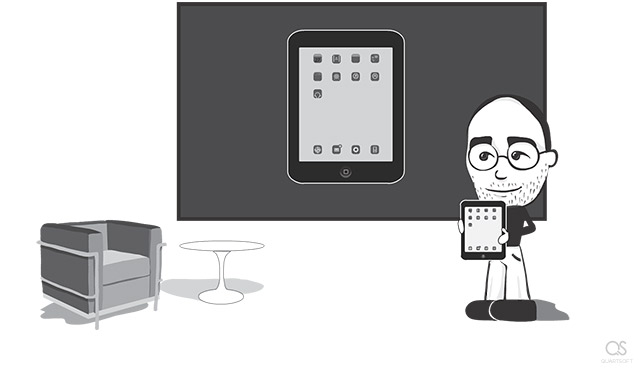 Steve Jobs introducing iPad (2010)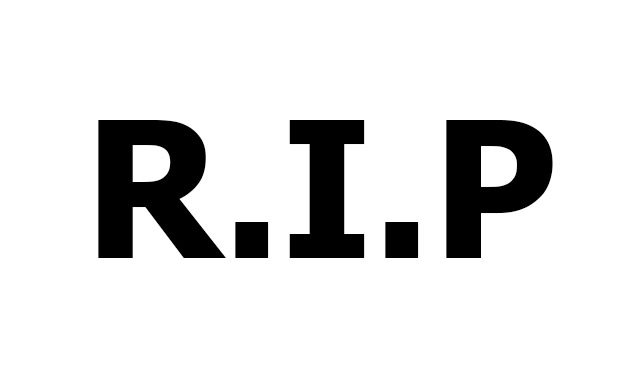 Steve Jobs dies at 56 on October 5, 2011
Attention: If you would like to use images created by QuartSoft on your site, you are kindly asked to link to our website as the source.
Posted on Wednesday, November 18, 2015
Comments: