Developing eCommerce Website for Sports & Fitness Business
Wednesday, January 3, 2018
Sports and fitness are a multi-billion business offering an abundance of opportunities. It attracts those looking for a great career, healthier life, entertainment and even gambling excitement. All of them are willing to pay for a wide array of products and services. The niche with so many enthusiastic customers and steady revenue growth just cannot be ignored by entrepreneurs.
As a web design and development company, we analyze many requests from representatives of major industries including sports. Sports entrepreneurs' requests have helped us get an idea of how broad the sports & fitness niche is and how many ways there are to create a business or enhance an existing one with a professional online presence.
The sports & fitness market provides opportunities to entrepreneurs regardless whether they belong to the sports community or simply want to earn money in a thriving industry. Any smart entrepreneur can exploit sports-related businesses and especially with the help of a website. Consider the following business ideas to see some of opportunities:
Online sports and fitness directory;
Sports and fitness related online store;
eTickets;
Hospitality and catering for sporting events;
Online betting;
Online communities and networks for sports fans and athletes.
Tapping into Sports Market Through Website
We have already discussed how web designers and developers can help sports-related companies. Our company keeps on preaching that the World Wide Web is the best place to tap into any thriving industry. The web technology allows adding value to businesses thus making them more customer-appealing.
Sports-related websites can be either primary business tools or offline business extensions designed to attract more customers. Having analyzed requests our web design and development team received from sports-related entrepreneurs, we divided sports and fitness projects into three types:
Web apps connecting suppliers and customers;
Web apps enhancing the offline business;
Web and mobile apps designed to build (and monetise) the community.
We would like to write a series of articles to share experience in developing sports & fitness web apps of these three types. We do it for entrepreneurs looking to have their professional online presence built to power their business in the sports & fitness industry. Hopefully, the article will answer some of their questions. Entrepreneurs are welcome to contact our web development experts for individual consultancy and help with eCommerce solution development.
So in the first article of the series we would like to discuss what it takes to build a sports & fitness website serving the classical purpose of connecting vendors/service providers with consumers.
Fitness Directory and Marketplace
Although it might seem complicated, building an online bridge between sellers and buyers appears to be the easiest way to start earning in any niche mostly because such activity requires the minimum investments to start up an online business. All an entrepreneur needs is a website, patience, and passion to bring the idea to life.
The game is rather simple: you need to attract as many targeted visitors to your website as possible. When they are flocking to the site, the business owner can display ads, sell own products or publish sponsored content leading to websites of relevant service providers and vendors. The useful and appealing content is the essence of such web projects. They are usually represented by blogs, discussion boards, forums, online communities, interest groups and whatnot.
The latest case of an online business of such type that our web development team encountered in the sports & fitness niche was a fitness directory and supplements marketplace. The goal of the directory and the blog is to attract customers to the marketplace. Besides physical products, the store was to be able to sell digital products such as eBooks, event tickets and discount coupons for local gyms and fitness centers.
Before coming up with the estimated time to build a website, we let our business analysts and tech experts analyze customer's requirements and learn more about sites of a similar nature. So we have gathered some known and newly discovered facts about sports-related online marketplaces and directories. This information has given us a better idea of design and development of a web app requested by the potential customer. Below is the information we found useful to produce a timeframe estimate for developing the sports & fitness online shop with a directory.
Online Shop Structure
The basic structure of a modern online shop is as follows:
Product categories list
Products list (featured products and/or search results)

Individual product details page

Shopping cart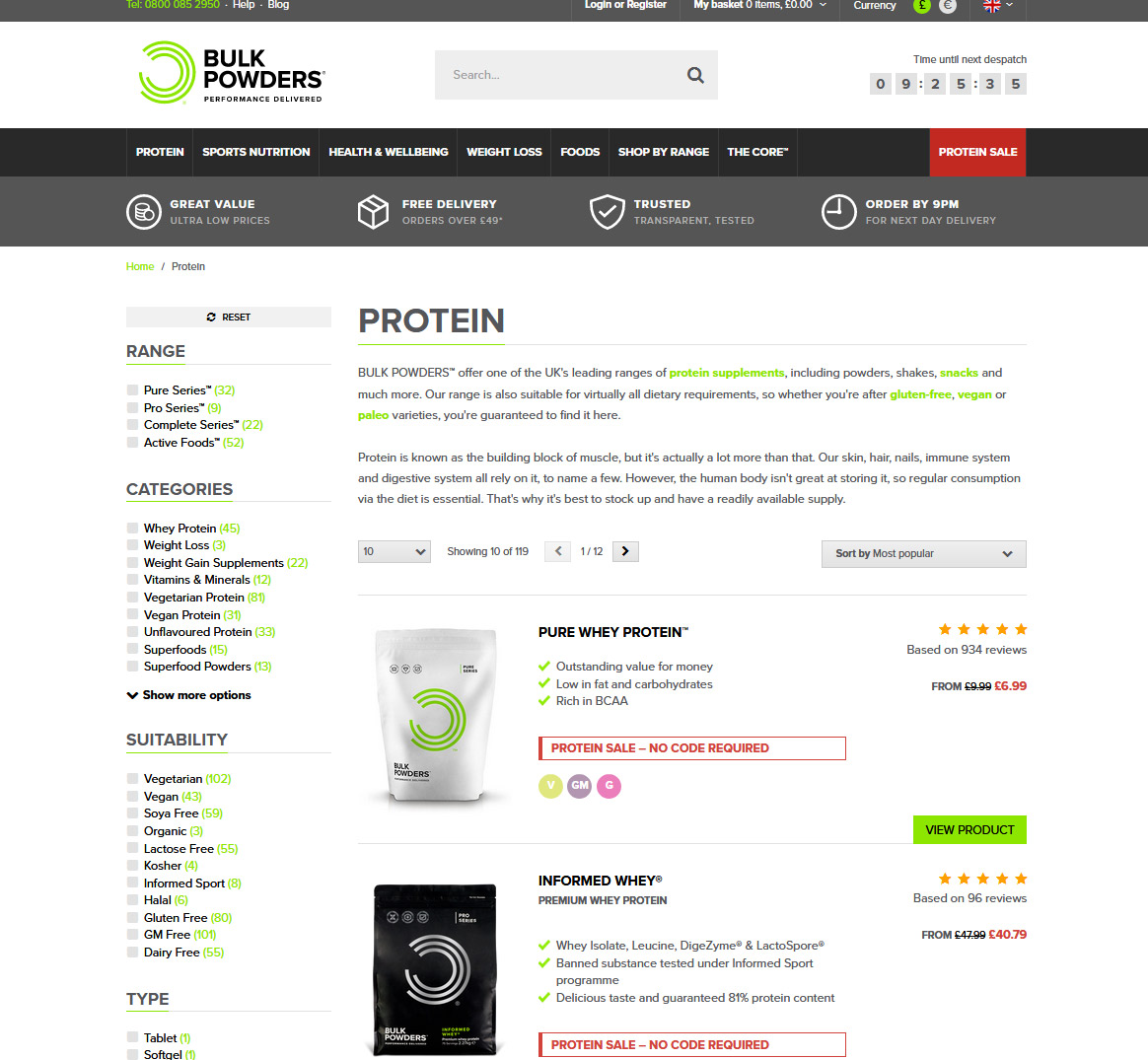 Example of a Magento-based sports & fitness supplements store. Source: bulkpowders.co.uk
In this project, the marketplace is the monetizable part of the website whereas the blog and the directory do the heavy lifting of driving targeted traffic to the online fitness shop.
Sports & Fitness Directory Structure
The directory has a number of features that enable registered members of the site to add gyms and professionals (coaches) to a saved list. The directory section is designed for three types of users: customers, coaches, and companies. All users can add content to the directory. Customers are allowed to add reviews while professionals and companies can submit their listings. Customers can send coaching requests, direct messages to coaches and book a coaching session online.
The directory has the following structure:
Companies home page

Companies list page (featured businesses or search results)

Professionals home page

Professionals list page (featured coaches or search results)

Professional's details page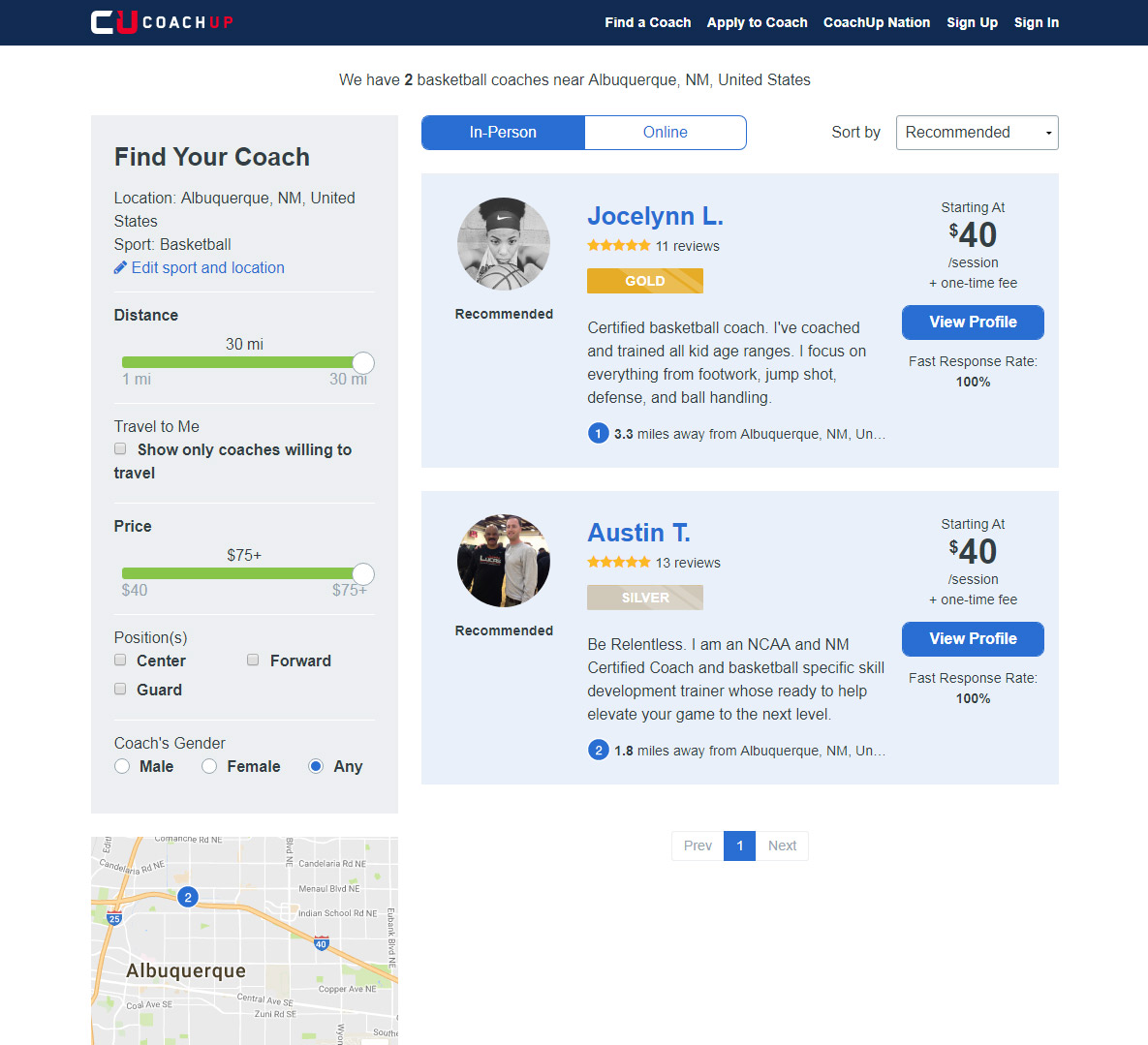 Example of a sports and fitness directory. Source: coachup.com
There can be other ways to monetize the website besides selling products. They can include an upgradable paid-for package offering early access to discounted products, special promotions, gym offers, featured listings, etc. Also, there can be advertising space to place ads from sports-related businesses. The directory website can incorporate all of the above-mentioned monetization methods.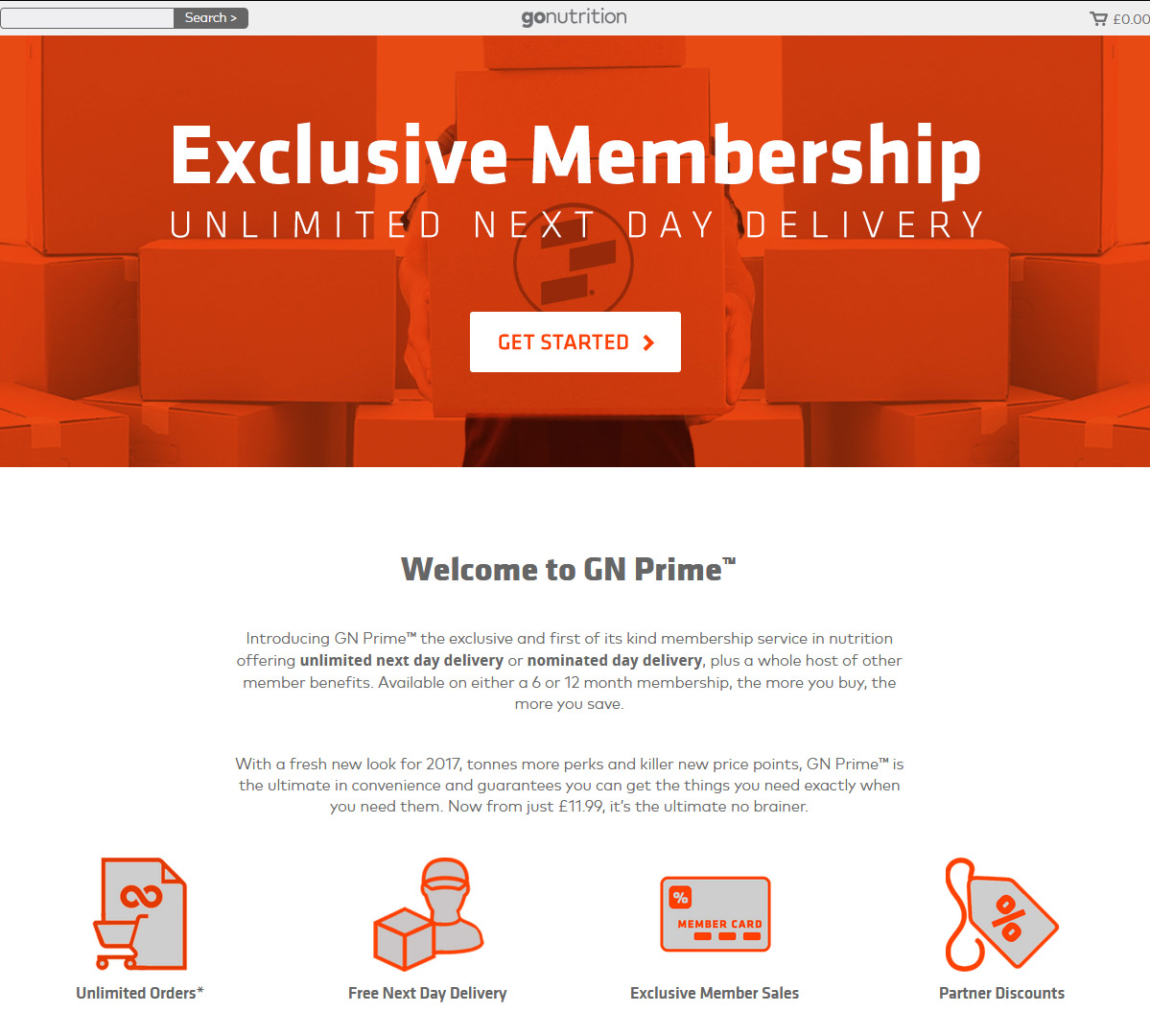 A paid subscription is one of the ways to monetize a sports-related website. Source: gonutrition.com
Web developers implement the monetization management and tracking capabilities in the server-side of the site. Thus there is another type of platform user -- the website manager.
User Profiles
Each type of user has a profile with a variety of backend functions. Thus listers (gyms and professionals) can add and edit their listings, see listing stats, add their events.
Directory users can utilize filters to find professionals and businesses in the catalog. Thus, for example, they can filter out coaches by training type, price, location, etc.
Website users interact with the shop and the directory in different ways. So there should be either separate personal accounts for these key parts of the website or a single account incorporating features and tools for both the marketplace and the directory. These are some features to be implemented in the personal account dashboard:
My account - Directory
My gyms (saved)
My professionals (saved)
Refer a coach
Private coaching (my coaching sessions, coaching requests)
Gym reviews
Invite friends
Pay to upgrade (access to member-only offers, discounts, and promotions)
For professionals (my listing, affiliate account)
For company (my listing, affiliate account, deals)
My account - Marketplace
Dashboards
Subscribe & Save
My orders
My wishlist
My info
Addresses
My product reviews
Refer a friend (bonuses for referrals)
Loyalty reward points

Example of a loyalty program at Gonutrition.com
Advanced websites offer admin access rights allocation based on the roles in the business. The business owner can have the unrestricted access to all back-end components while such users as managers and assistants can have the full access only to the CMS and other back-end tools and functionalities that are necessary for their job.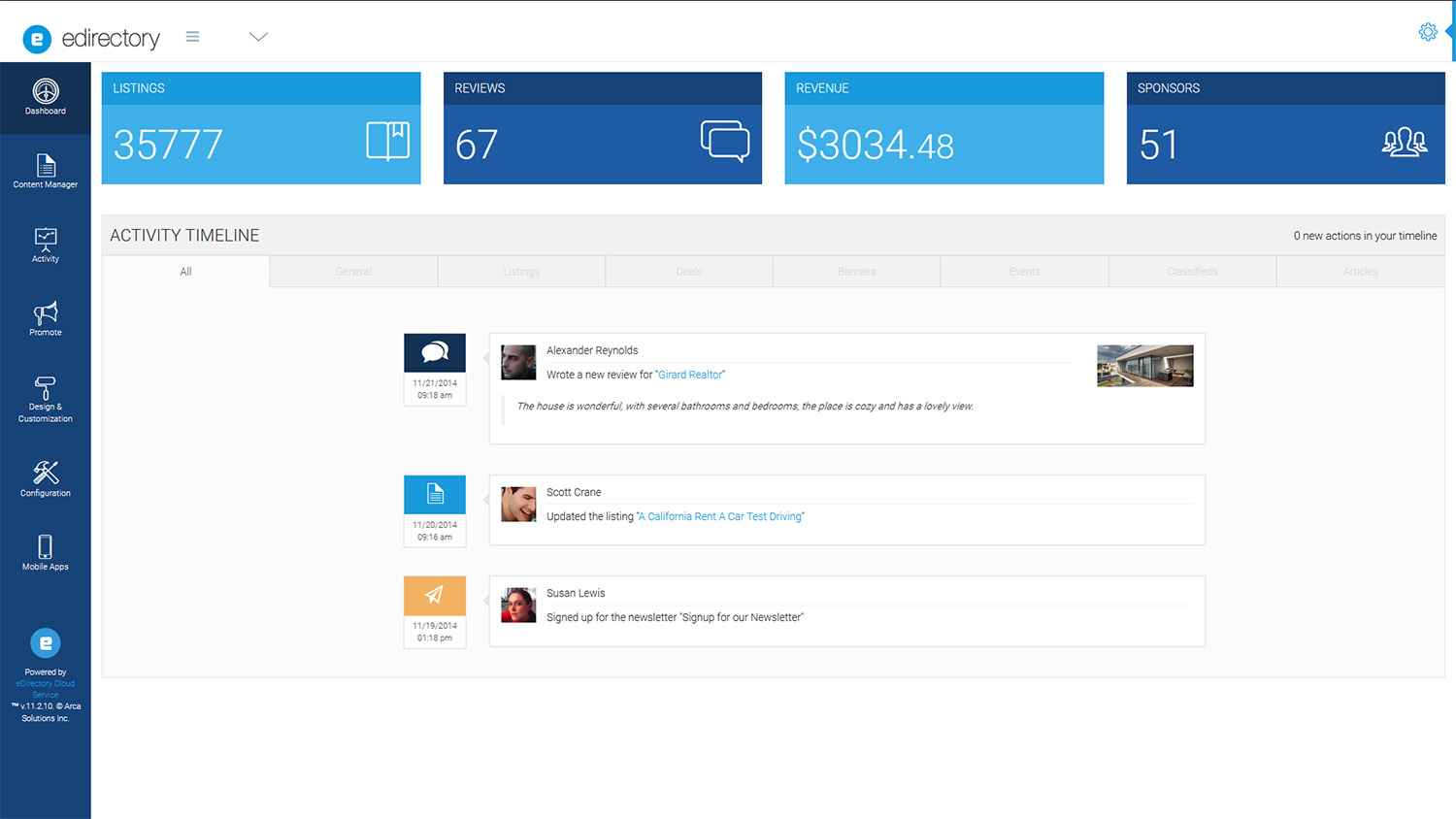 Example of the directory back-end accessed by admins
Magento-Powered eCommerce Solution
When it comes to building an online shop, we always suggest using Magento, one of the most advanced eCommerce platforms.
There are blog extensions for Magento, so web developers can smoothly integrate this important marketing tool into the marketplace with all the components working on the single platform. With an extension like this, there is no need to incorporate a third-party blogging platform like WordPress.
A regularly updated blog is extremely important for content-based websites like the one described in the present article. Such websites are an entry-level solution for entrepreneurs who want to tap into the sports & fitness niche. They are good even for those entrepreneurs who do not have own physical products to sell. Value-added content in the form of useful blog articles and directory listings can attract enough traffic to earn from advertising, affiliate marketing, and multi-vendor marketplace.
A Magento-powered web store has an entire range of features a sports supplements marketplace may need such as monthly (daily, weekly) recurring order subscription, coupons, and recommended products.
The online platform incorporating the sports & fitness marketplace, directory and blog may require the following key tools and functionalities:
Magento blog extension (alternatively WordPress integration);
Magento customer loyalty extension;
Points and rewards for actions (Magento extension);
eDirectory integration;
Delivery and logistics provider's API integration (if applicable);
Google Maps API integration;
Online customer support solution (e.g., ZenDesk, Desk.com);
Customer loyalty feature (purchase reward points);
Affiliate program (referral code generation);
Email marketing system (e.g., MailChimp);
Marketing automation system (e.g., Emarsys);
Customer acquisition tools (e.g., Optinmonster).
Since the website has both the directory and the shop, there should be a search feature that allows searching within the directory (gym search, coach search) and within the shop (product search). An interactive map is also an essential part of directory search capabilities that allows offering a visually enhanced display of facility locations, their rates, and other useful information. Web developers make use of the Google Maps API to implement and configure the map-based search. Magento has powerful search capabilities including such functionalities as autosuggest, spell correction, and search analytics for online store admins.
Estimated Time to Build Online Store and Directory Solution
When analyzing requirements to design and develop an online fitness marketplace incorporating a directory, a blog, and a job board, our web development experts concluded that a mobile-friendly website like this would have 70+ non-user-generated pages including those designed for members' profiles. The graphic design part of the project would take around 260 hours. The HTML coding would require about 180 hours. The back-end development could be done within 314 hours. There should also be quality assurance tests that would take approximately 95 hours. Another 95 hours should be considered for the project manager who would coordinate the communication between the customer and the design and development team. So our team can complete the entire project within 3-4 months.
The project can be divided into three parts:
Online store design

Staff involved: business analyst, web designers, project manager
Deliverables: detailed scope of work and functionality description of the marketplace, wireframes, and design of the online shop.
Estimated timeframe: 2 weeks

Online store development and fitness directory design

Staff involved: business analyst, web developers, web designers, project manager
Deliverables: detailed scope of work and functionality description of the fitness directory, wireframes and design of the directory, fully functional online store.
Estimated timeframe: 4 weeks

Directory and blog deployment

Staff involved: web developers, web designers, project manager
Deliverables: fully functional fitness directory, job board, blog.
Estimated timeframe: up to 6 weeks
Our web design and development team has acquired ample experience in launching eCommerce projects in a variety of markets. If you are looking for a solution helping you sell sports & fitness products online or become a middleman between third-party vendors and their customers, you can rely on our expertise to build your business platform on the web.
Besides programming and UI design, we also offer project related technical advisory and risk analysis as well as custom solution planning. We are always here to expertly lead our customers through the entire project starting from choosing the best approaches to developing and enhancing the concept to post-launch support and maintenance. With our graphic designers, eCommerce developers, project managers, business analysts and quality assurance engineers, you can be sure to save money and avoid bottlenecks while having your online business built for success. So contact us with your project details and let's get started today.
Comments: