Creating Website for Clothes for Cash Service
Thursday, November 17, 2016
Every big industry creates thousands of businesses around itself. The apparel and fashion industry involves all sorts of entrepreneurs starting from those directly involved in clothes manufacturing to the enormous range of companies created to sell and promote apparel. There are also clothes startups that either produce some innovative apparel or find another out-of-the-box way to make money by tapping into the major apparel industry. This story is about how we implemented an unusual startup service that turns unwanted apparel into cash. The project is called Cash4Tags.
We at Quartsoft have always understood business as a profitable economic activity aimed at solving issues of other people, called clients. Our company makes web development cost-effective by outsourcing to implement business models of other enterprises.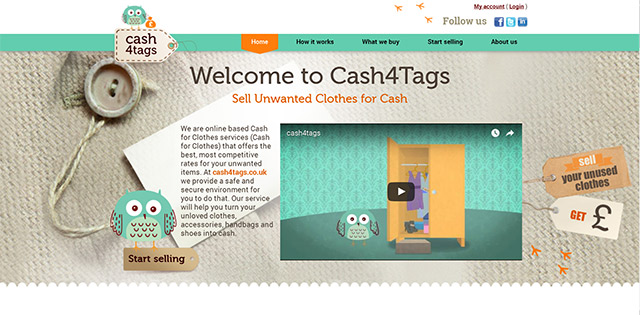 The original home page of Cash4Tags - the web-based cash for clothes service
The Cash4Tags service helps customers sell unwanted clothes and thus clear their wardrobes. There are a few reasons why people stop wearing items in their closets: they may change their sizes, job that also requires the change of wear or they may change their clothing preferences.
It is a smart idea to change mess to cash. Some people have never worn purchased clothes and still have tags on them. It is the time when Cash4Tags can help get rid of unloved apparel and get some money in exchange. Cash4Tags buys not only clothes but also perfume, accessories, handbags, and shoes.
Upon registering on the site, the customer fills out a form to indicate what kind of items he/she desires to sell. The customer chooses the appropriate delivery option and posts the package at a convenient time to be evaluated by Cash4Tags. The system generates a unique order number for the user to mark the parcel. The system also generates a printable label that is to be attached to the package. The service pays out money immediately after Cash4Tags employees evaluate the items.
From the web development perspective, Cash4Tags is a relatively straightforward project created for a business requiring some input from a customer. It is quite a niche market targeting mostly women willing to get rid of unloved clothes, bags, and perfumes. And as any niche business, Cash4Tags needed a web presence that works smoothly and looks trustworthy. Niche businesses, like this one, often use a unique selling proposition. Anyhow, when operating in a niche market, building trust is an important task to do in the way to success. A professionally looking and functioning site is the cornerstone of trust in any online business. The Cash4Tags website has a neat and pleasant look thanks to QuartSoft's graphic designers. It was created by professional web designers to be appealing to the target audience which mostly consists of women. Our web developers implemented Yii framework, Angular, MySql and PhantomJS to make the online service smooth and reliable.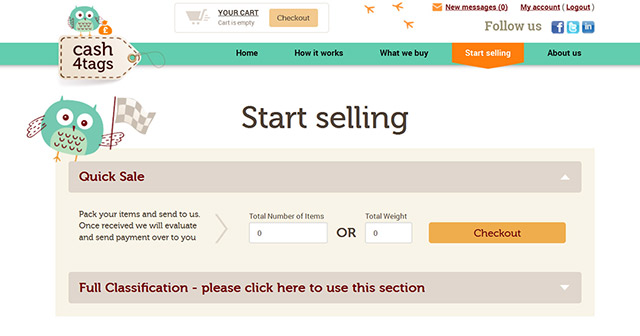 Quick sale option
The front-end of the website is designed to build trust and explain how the business works. A few pages of the developed service contain information text that is not only written to explain how the web service works but is also SEO-optimized to attract potential users from the UK looking for their unwanted clothes solution in search engines.
Yii powered apparel procurement service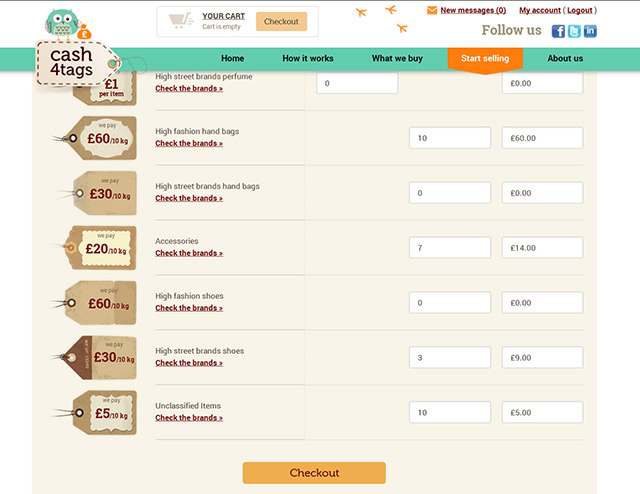 Detailed classification option
The back-end allows clients to arrange sales of their items by entering the initial details about them and getting the particular order ID. The users choose between two options to start selling their goods. These are the "Quick Sale" for those who have no time for providing more detailed information about the items for sale and the "Detailed Classification" for those users who do not mind categorizing their items by types of fashion styles. The "Detailed Classification" form allows to immediately calculate the total value of goods based on their weight.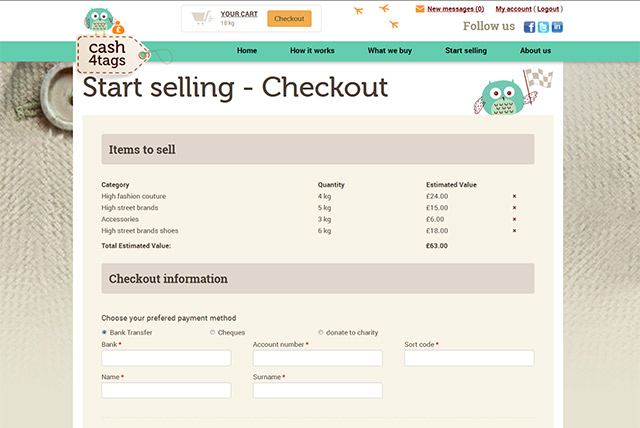 The checkout page
No matter how unique and unusual your business is, our team of web designers and developers will use their experience to create a professionally looking web presence to match your online business model and be successful in solving your clientele needs.
Claim your 15% discount on business analysis services by referring to this article to reduce your development risks and choose the most cost-effective and modern technical solution!
Comments: