Creating Online Store for Health and Wellness Products Manufacturer
Friday, June 3, 2016
The idea to have a full cycle business, from manufacturing to selling own products excites startups all over the world. Especially if these products impact wellness and daily life of those with exceptional needs. Quartsoft, as an eCommerce development outsourcing partner is proud to help health and wellness companies reach to their clients in the World Wide Web through professionally designed websites and online stores. It is truly a pleasure to create a robust web presence for businesses with a noble mission of improving lives for people with adverse health conditions.
Sabi is one of our clients that we helped create an online store. Sabi designs and manufactures a few award-winning health and wellness products - pill organizers and canes. In fact the business has only three product lines that include less than 30 items. One of product lines called Sabi Space includes some well-designed bathroom accessories to serve all categories of clients regardless of their health conditions. The other two product lines include pill organizers and pill accessories (Sabi Thrive) as well as beautifully designed canes and accessories for them (Sabi Roam). Unfortunately, this resource suspended activity in May 2016, so it's now available only on the Web Archive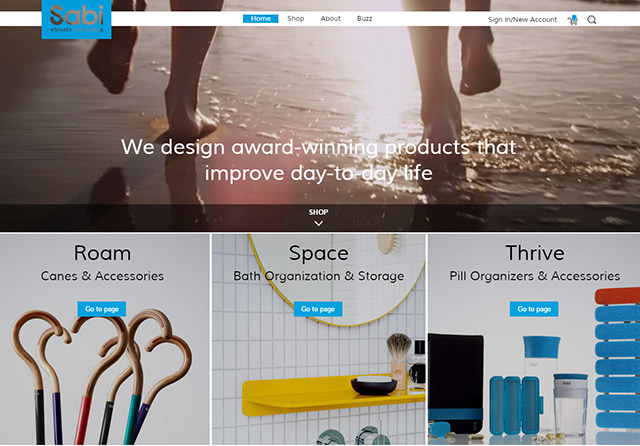 Online store created for Sabi – a business that designs and manufactures award-winning health and wellness products
It is useless to start a design and manufacturing business without believing in a long-run success of the undertaking. So such entrepreneurs should be prepared for the long-run success from the very outset of their business. One of the key points in the preparation plan is creating a professional web presence to start reaching out to the target audience and build the brand.
As usual, we recommended the client to use the Magento eCommerce platform to power the www.Sabi.com online store. We believe that Magento can be perfect for small businesses that have a strong potential but need time to gain their momentum on the market and scale. Unlike some other popular eCommerce solutions, Magento does not require monthly fees for using the platform and additional plugins, as well as allows changing the internal logics of the system to match business needs. So launching a Magento-powered online store is a one-time investment without future recurring payments except those for hosting services.
With Magento, an online business can have a professional-looking, full-featured website that is scalable to adapt to the evolving business needs, up to tens of thousands of items sold and delivered to thousands of clients over the world. A business owner can add or remove additional extensions without paying recurring monthly fees for their usage, change layout or design as much as needed, manage multiple stores from a single admin dashboard and choose any hosting provider while totally controlling business data and files.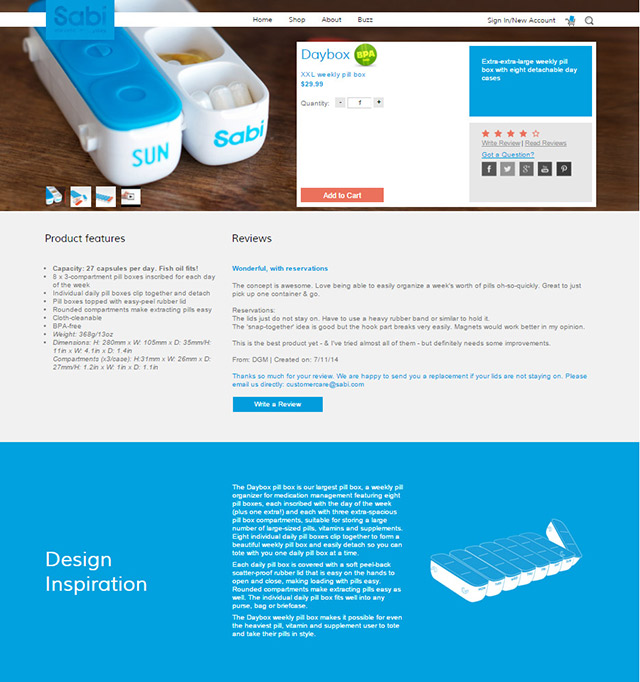 QuartSoft's eCommerce developers and designers have created a stylish design for the online store to reflect Sabi's philosophy incorporating superb functionality, simplicity, and aesthetics
Sabi's products are designed professionally and win product design awards. Therefore, their merchandise is stylish and thoughtfully built. Our web designers had to keep up with the high level of design involved in Sabi's brand and business philosophy. So we did our best to build a slick, visually appealing website. The site's look and feel create a similar harmony and aesthetics that are so professionally embodied in products manufactured by Sabi.
The professional online store is indispensable for establishing a successful Internet presence for product manufacturers whose business is based on style and unique design solutions. People who buy from such vendors want to show off their class and good taste in everything they possess, even in health and wellness products. They might equally expect to purchase prestigious things from fruitful and professional companies. Anything that may look unprofessional can avert demanding prospects from deals. That is why websites of companies designing and manufacturing own products must reflect the professionalism and trust in multiple dimensions including their look and feel, functionality and customer-focused features implemented for the best shopping experience.
With the industry's largest number of 5000+ free and premium extensions and advanced customization capabilities, Magento is the number one eCommerce solution to meet any business needs. Fortune 500 companies use this platform to build all kinds of online stores from simple and stylish eShops to franchise points of sale and complicated marketplaces with interactive features. In our case, we needed to reflect Sabi's brand philosophy incorporating superb functionality, simplicity, and aesthetics of their products. And we believe we have managed to do so.
Implementation of the eCommerce solution for Sabi, made Quartsoft deal with Zend framework to fine-tune the online store functionality, PrototypeJS to thoroughly plan the interface and scope of work, and Nginx to let Sabi's customers enjoy the fast server response. We have also integrated a warehouse system into the online store for admins to easily manage the inventory. The web store was built using a responsive template which allowed the layout, copy and graphics to adapt to different screen sizes for a better shopping experience for mobile device users.
If you are a designer and/or manufacturer of physical products looking to establish a trustful online presence to showcase and sell what you produce, you are welcome to contact our eCommerce team for professional advice as well as design and development of your online business. Refer to this article to get 20% discount on graphic design services.
Read also:
Need a Website for Your Fashion Business? Make Sure You Choose the Right Web Designers
What Web Designers and Developers Can Offer to Healthcare Providers
Comments: