How to Develop a Cosmetics Brand eCommerce Website
Thursday, May 5, 2016
Are you looking into developing a cost-effective eCommerce solution for the exactly identified target audience? Outsourcing development of an eCommerce website is a challenge for those who create their first web store. The more detailed the description and the business model is, the better the deliverables match the business needs. Cosmetics are a highly competitive market, so the idea should be unique, audibly delivered to the target audience, whereas the website should communicate the brand idea through its look & feel and usability. This article describes the result of the cooperation between the teams of Ekia marketers and Quartsoft web developers to make a perfect match for the extremely saturated health and beauty market.
Being healthy and beautiful is something every woman or man strives for. Being attractive is of particular importance for females as it is a part of their self-confidence. The number of potential clients on this market is countless, as well as that of unique sales propositions and business offers. Hence, the competition in this industry is remarkably tight, and cosmetics take the lion's share of the health and beauty market. The majority of vendors of this kind follow these rules to be successful:
Sell both offline and online;
Ensure professional and trustworthy look of the business.
Ekia has realized those rules to win a market niche in trading anti-aging cosmetics in Ukraine with the help of Quartsoft's eCommerce department. Ekia mostly sells anti-aging cosmetics which means the majority of their clients are women of the age of 30+. The audience like this prefers adaptive, user-friendly and intuitive design for an online store they would feel comfortable to make purchases in.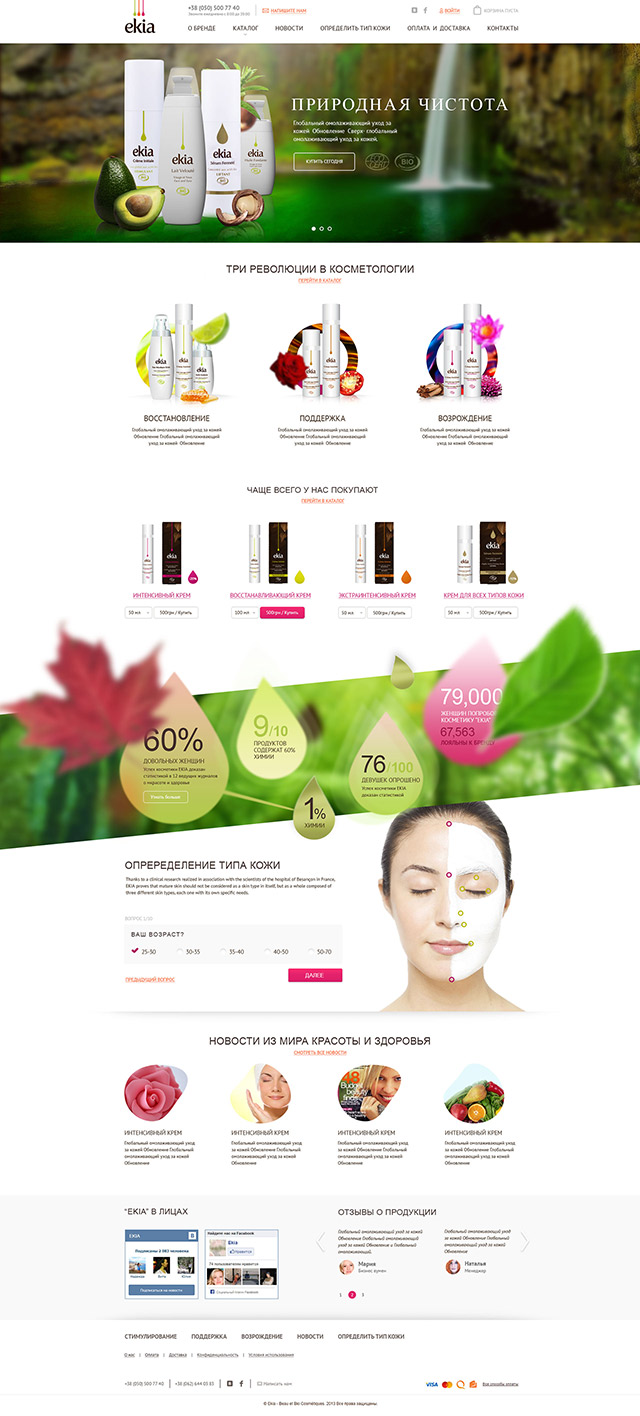 Ekia is an online shop designed and developed by QuartSoft for a French cosmetics vendor entering Ukrainian market
Ekia is a business that has recently started to sell French cosmetics in Ukraine. Ukraine is believed to be one of the countries with the most beautiful women in the world. No wonder cosmetics are always in demand in this country as there is also a fierce competition between so many pretty females of all ages wanting to be as much attractive as possible. Of course, one can successfully sell women's cosmetics on a 42 million people market with females prevailing in population.
Ekia is one of the cosmetics brands expanding its market to Eastern Europe and Ukraine with the clear understanding of the first steps to be done to start selling in a new country as fast as possible. Naturally they were looking for Ukrainian eCommerce developers from Ukraine, who would be able to create a professional-looking online store for them according to their business model and requirements.
QuartSoft has built the website as a marketplace where any woman can quickly find what she needs, whether it is information about the brand, contact details, products or shipment terms.
QuartSoft proposed to use Magento for its reliability, scalability, add-on and integration capabilities. This eCommerce platform offers unsurpassed flexibility and growth opportunities to online business owners. Our online store developers used their most favorite stack of technologies to expand Ekia's eCommerce business for a new country including Magento, Zend, HTML5, Bootstrap, Prototype, and AWS. To make it even more convenient for business managers and accountants, we have integrated the local accounting system with ERP capabilities "1C" into the back-end of the online store to facilitate its management and integrate the online solution into the back-office accounting workflow.
Our growing portfolio of outsourced eCommerce projects lets QuartSoft use its expertise along with a clear vision of the client marketing team to implement an array of tools for successful online sales. Whether you are a brick-and-mortar retailer needing to expand the business online or a brand entering a new country, Quartsoft can build your eCommerce solution from a scratch, or extend the functionality of the existing one. Even having a basic idea or plan helps us a lot, as Quartsoft's business analysts can use their experience to expand the information to propose several solutions and draw a more detailed scope of work with clear terms and budget. With our own design team under the supervision of an Art Director, our clients can successfully attract their target audience with the bespoke design and user-friendly interface.
So, the recipe for successful launch and operation in the case with Ekia in Ukraine was based on exact project specification and scalability of the proposed solution. Going to develop your new cosmetics eCommerce store or any other online shop for a highly competitive market? Refer to this article when requesting a quote and get 15% discount on front-end design services!
Comments: