Mobile-Friendly Ecommerce Site for Furniture Retailer
Friday, March 25, 2016
Selling products can be a nightmare for brick-and-mortar furniture stores. The cost of fancy showrooms, warehouses, sales assistants, agents and landlords increases the final price of items. That is why traditional furniture retailers have to withstand a fierce competition to be successful on the market. Retailers have to find the ways to cut their costs and showcase their products to as many potential buyers as possible without having to rent large showrooms in multiple places.
Building an online store can be an excellent solution for furniture vendors to improve their sales and expand activity far beyond the location of their warehouse facilities.
Thanks to the online store created by QuartSoft's eCommerce developers, Australian furniture and interior decor retailer Interior Secrets can position its business as the fastest growing online supplier of designer furniture at the most competitive prices in Australia.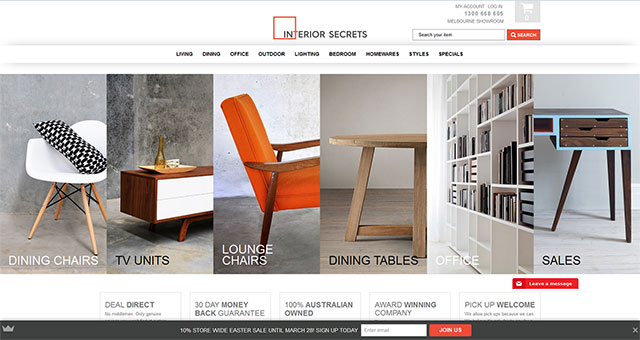 Interior Secrets is an award-winning furniture online store built by QuartSoft's eCommerce development team.
A professional online store helps sellers of such bulky items as furniture create a successful business model that is convenient for both shoppers and vendors. The eCommerce-based business model allows merchants eliminate intermediator services that increase the final item price. Selling online can considerably cut the logistics budget as the entire product range can be demonstrated online and delivered directly from a manufacturer or a warehouse to the buyer after order placement on the website.
The web store serves as a showroom for the Interior Secrets business. We have created a neat and bright design for the online store to make it look stylish, relaxing and cozy. It's especially important for an award-winning company selling products for interior styling. Everything must be perfect on such a company website because it's about the brand's prestige in the eyes of sophisticated clients. To empower these features on the eCommerce solution front-end we implemented Zend and HTML5 technologies.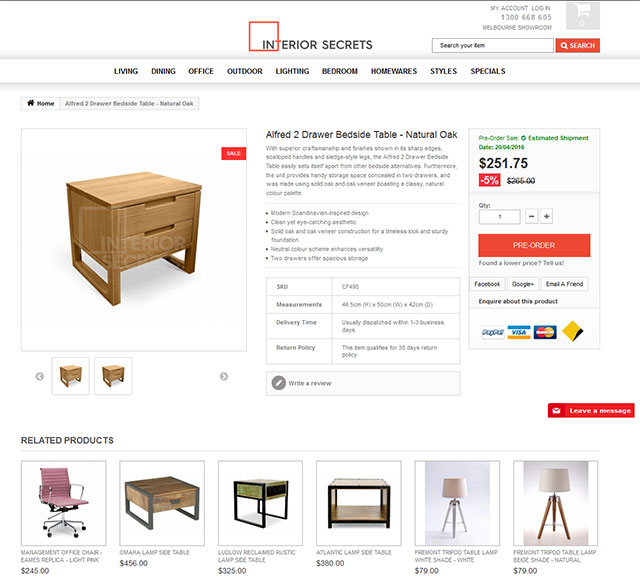 A neat design creates a stylish simplicity that does not destruct buyers from the shopping process.
To match the design and functionality, we started from planning the user interface using the best eCommerce UI/UX practices and client's business model in PrototypeJS and involved our Art Director to balance the look and functionality.
We recommend Magento platform as it is flexible enough to be used for building a perfect eCommerce site for any business. With Magento, developers can offer advanced customization of the online store functionality depending on brand requirements and marketing strategy. A bare minimum of cross-selling and filtering features allowed QuartSoft to create a user-friendly and stylish design for Interior Secrets that does not distract customers from the shopping process. Instead, a shopper can quickly find any necessary furniture item in a few clicks as well as discover newly arrived products. To make Magento solution scalable on the server side and ensure further project evolution, we advised and implemented Amazon Web Services (AWS).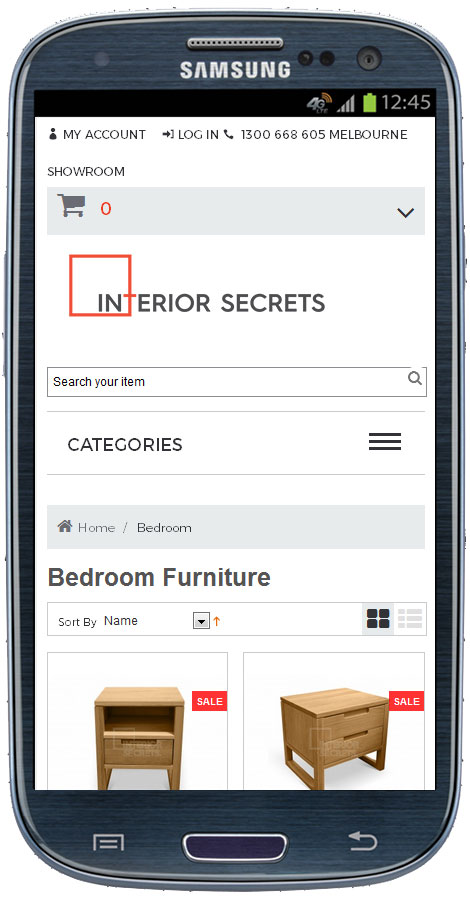 The Interior Secrets online store has a responsive design which makes the website mobile friendly and results in better traffic from mobile devices.
The Interior Secrets online store has been designed to be mobile friendly. Responsive web design guarantees Interior Secrets more happy customers coming their way from all sorts of mobile devices. Since mobile friendliness has become a ranking factor for Google's mobile search, this kind of web design is extremely beneficial for organic traffic referred by the biggest search engine.
If you are a furniture and/or interior decor vendor looking for a professional full-featured online store for your business, you are welcome to entrust the project to our experienced eCommerce web design and development team. We are ready to meet any challenge to build a perfect web store tailored to your brand and target audience.
Refer to this article while placing the estimation request and get a 20% discount for eCommerce design creation services when you order development at Quartsoft.
Comments: