Web Design and Development for an Award-Winning Startup. Our Portfolio.
Friday, February 5, 2016
VoiceBase is truly one of the biggest gems in QuartSoft's startup web development portfolio. Our team is proud of creating it from scratch and working behind the scenes of this award-winning business, exploring new business models and implementing them in code of a fully functional environment. This article shares our experience in launching hi-tech online startups and our approaches to their development which led to meeting the project goals.
Speech Recognition Startup
The QuartSoft team immersed in development of the VoiceBase web-based startup idea from prototyping and interface creation to implementation of algorithms to serve the people's need to search for information. The search engine industry seems to be saturated with top players like Google, Yahoo, Being and some others. However, there was a niche that remained almost untapped when VoiceBase founders decided to explore searching audio and video recordings by keyword.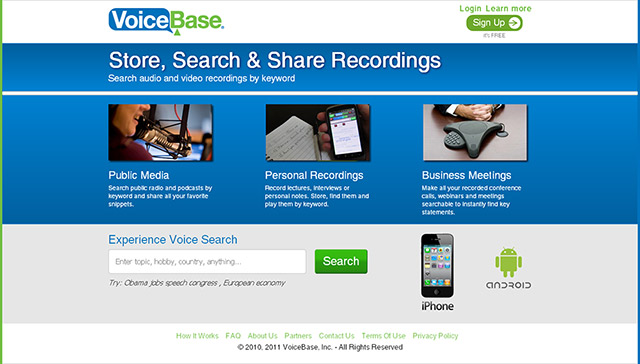 The original design of the VoiceBase website
The ability to quickly find information saves millions of dollars for many businesses. It applies not only to companies but individuals too. We cannot imagine our life without search engines. Whenever we need to learn something, we google it. There are surely such situations when quick access to information can save lives. Like searching for some important phone numbers or emergency recommendations.
Google and other search engines are good at what they do. However, they have been missing the ability to search audio. Youtube has done good job enabling users to search for videos by keywords. If a video is transcribed or has captions, one can find it by a keyword in the transcription / captions text. But the problem is that Youtube does not allow finding the exact place where the keyword is pronounced in the video/audio recording.
VoiceBase was a challenge not only for project owners, but also for QuartSoft business analysts, system architects and developers. Defying the search giants in terms of finding keywords in exact places they occur in audio recordings was in the plan and now it is exactly what VoiceBase does. The system offers both machine transcription and human transcription as premium service.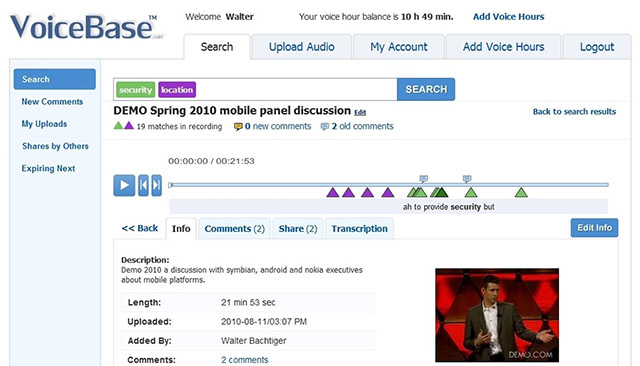 VoiceBase allows finding keywords exactly where they are in the audio recording
QuartSoft development team contributed greatly to the ability to quickly find the specific place in long recordings or the exact word/phrase in multiple recordings provides an excellent opportunity to save valuable time for students, journalists, lawyers, researchers and people of many other occupations. As a result of thorough planning, splitting the whole big project into sprints and strictly following the best development practices and guidelines, keeping to the release schedule, now all these people can make recorded conversations, lectures, interviews, conferences searchable to spend less time for information processing.
When launching web-based startups, QuartSoft strongly believes in the necessity to deliver revolutionizing products to the end user and let them always be available to the user. At the time of the VoiceBace launch, mobile development was at its dawn, though we also developed and app to make the service extra handy for the target audience. The VoiceBase mobile app makes it possible to use the service anywhere and by anyone. Users can also share recorded conversations with friends and colleagues who in their turn can listen to, search, retrieve and leave comments in any place of the audio. The ability to store audio files online publicly and privately provides even a bigger value of the service.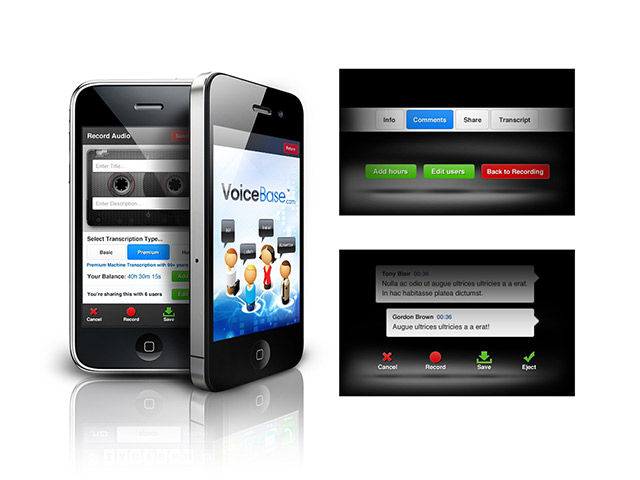 The original VoiceBase mobile application
Use Cases and Potential Users
As with email, there are hundreds of use cases for this startup. Here are just a few examples:
VoiceBase allows for discussions to be continued, tasks to be finalized and information to be updated after the completion of a meeting.

Scenario: During a meeting, attendees are notified that the cost of the security project is estimated to be $100,000. Later, it is determined that the actual cost is $120,000. A meeting participant could login to VoiceBase, search for "cost security" to find the relevant section of that meeting, and add a comment noting that the costs are now 120,000. Everyone who took part in the meeting would immediately see this information as a new comment in their VoiceBase box.

In corporations, persons with responsibility for key function areas is often invited to meetings that touch the person's area of influence, requiring a user to sit through long meetings where only a small fraction is about that area. VoiceBase allows that person to simply do a search of all the meetings that took place in the company (provided the user was given those rights), and receive a list of all the meetings where, for example, "marketing" was mentioned. The user then would simply listen to the relevant sections, leave comment where needed. All attendees would see this as a new comment on that meeting.
Journalists and Bloggers often attend conferences, presentations or conference calls. In many cases they are often focused on certain areas, but they are forced to listen to the entire conference, or often decide what not to listen to in case of overlapping curriculum. And even though most conferences provide recordings, it is impossible for them to evaluate which sections they should have attended and that are relevant to their work. With VoiceBase a journalist simply runs a search on meeting content contained in VoiceBase and immediately gets a list of all conversations where keywords in the journalist's or blogger's field of interest were mentioned. The person then can listen to just those sections, and in the process save time with better coverage.
VoiceBase proved to be a valuable tool for call centers. It allows collecting tons of information from calls to quickly analyze customers' dissatisfactions, needs and wishes as well as learn something customers like about your competitors. The speech recognition system captures some negative and positive keywords to analyze customer experience with the business/products. The final analysis gives business managers a clear idea about what needs to be done to improve customer experience. The tool is especially useful for large companies with very busy call centers and claim processing departments.
The ability to recognize and analyze a predetermine set of keywords / phrases with the VoiceBase service allows businesses to use aggregated call recordings to quickly identify hot leads to prioritize the further work with them for more and faster successful transactions.
The VoiceBase speech recognition algorithm also enables users to detect sensitive data like credit card numbers in recordings in order to guarantee more secure transactions to customers.
From its very outset in 2009, the startup received a high level of interest from corporate users as well as possible future strategic partners:
Business users:
There are 20M professionals in US who have meetings. Using VoiceBase would increase their productivity by over 20%. In addition there are 450 million English email users which use web based storage, search and sharing for their text conversations. There is no reason why they should not use web-based storage, search and sharing for their voice conversations. In 2009, it was our first serious and successful experience of integration web-based storages, we analyzed the scope, introduced necessary changes to the requirements, approved them of with the project owners and powered the project with vital storage functionality.
VoiceBase was planning to expand into other language markets which would be able to triple these market size numbers. Naturally, the question of effective storage was crucial for this project growth, and thanks to our tech team this functionality was brought to life on time.
Partner opportunities:
After the prototype had been developed, VoiceBase also received interest from both voice recorder manufacturers (2.5M sold in US/year), and meeting and conference organizers ($645M in voice recordings at conferences in 2009) which promised to accelerate market penetration.
QuartSoft is Your Outsource Partner for Startup Development
QuartSoft's development team is glad to have led VoiceBase from a simple prototype to a complicated multi-million startup.
Now in 2016 QuartSoft's portfolio has more successful startups as we have been launching them every year since 2009. The thorough planning approach has proven its effectiveness and saved much of the project budget at later stages. Our designers and developers are not the cheapest one can find, but when hiring us, you can be sure to get high-quality services and expertise to save your time, nerves and money in the long run.
Still having doubts in balancing your startup budget and timeframe? Do not plan to sacrifice speed, quality and price? Serial startup web development team is ready to help you. Not only we can bring your idea to life, our experts can suggest you the most effective ways to implement the technological part of your business venture.
Request a free consultation and get 20% reduction for design and interface creation. Hurry up to join the success team!
Comments: