Animated Biography of Steve Jobs
Tuesday, October 27, 2015
The following video and blog post are dedicated to Steve Jobs – a man who had revolutionized the world of technology and put that dent in the Universe. This dent is now filled with the thriving IT industry offering jobs to millions of employees as well as benefit and satisfaction to an uncountable number of consumers. The video was created by amateur animators working at QuartSoft's Marketing Department. We hope this post will inspire young people to keep on changing our world for the better with their innovative minds, artistic taste, and entrepreneurial instincts. Thank you, Steve, for letting us enjoy the perfection of the products you created for us. RIP.
The Computer Revolution for the Sake of Us All
People who inspire us deserve talking and writing about them in any form, anywhere, anytime. Luckily, in our IT company most of us are inspired by people who push the progress forward and revolutionize the world with groundbreaking innovations. So we think it's important to pay tribute to those inventors, innovators and entrepreneurs who have introduced new technologies into the world to make our lives better and more fun. And it's not only because people like them create new opportunities and entire industries with millions of jobs. Although we recognize that our web design and development company may have not existed if not for a few dozens of people who have brought to life brilliant ideas such as the computer, smartphone, Internet etc.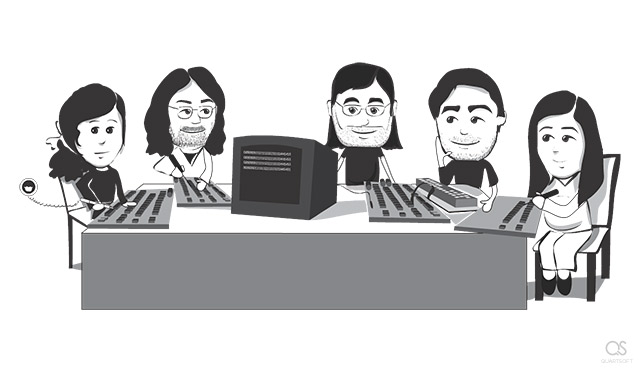 Best moments of Steve Jobs's life: the original Apple Computer team assembling Apple I (1976)
"What I was proud of was that I used very few parts to build a computer that could actually speak words on a screen and type words on a keyboard and run a programming language that could play games. And I did all this myself." – Steve Wozniak
Their contributions are even more important if we regard them from the perspective of their global influence on the human society. I can hardly think of any sphere of human life that has not been facilitated or streamlined with a computer. The personal computer helps people create, cure, educate and entertain themselves. These wonderful machines have been powerful, compact and cheap enough for less than half a century, but they've made an incredible impact on our today's lives. Thanks to the computer the humanity learned how to identify and fight some dangerous diseases, how to learn and teach more efficiently, how to reach faraway planets, how to see the entire world from your home and how to find new friends without distances being a problem.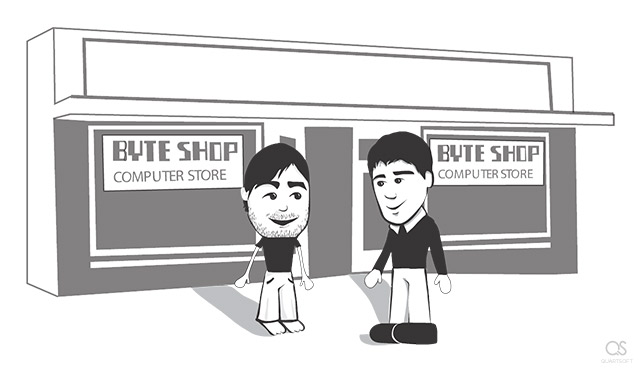 Best moments of Steve Jobs's life: Paul Terrell of the Byte Shop agrees to order 50 assembled Apple-1 units (1976)
"What I needed was an assembled and tested unit that could sell to people that really just wanted to use them and not just to the technical audience." – Paul Terrell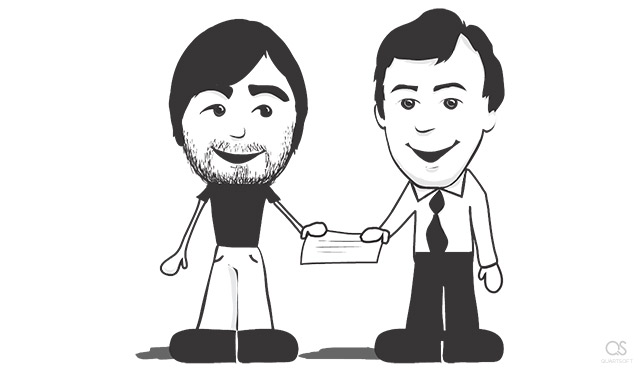 Best moments of Steve Jobs's life: Mike Markkula's serious investment in Apple (1977)
"Mike really took me under his wing. His values were much aligned with mine. He emphasized that you should never start a company with the goal of getting rich. Your goal should be making something you believe in and making a company that will last." – Steve Jobs
Here at QuartSoft, we believe that revolutionary inventions such as the affordable personal computer have given us the most incredibly amazing things people have ever got in the history of humanity. We are lucky to live in the ever-evolving digital era. And we want this evolution to go on and on. We need new genii to push the human race forward. That's why our team has decided to undertake a mission of inspiring our audience with the world of revolutionary technologies and groundbreaking inventions as well as innovators and entrepreneurs involved in introducing them to masses. We want to convert young people into admirers of science and engineering. We want talented geeks, inventors, engineers and scientists to be as famous and popular as rock stars. We want the representatives of the new generation to believe that they can change the world and make it better for each of us just as Steve Jobs did.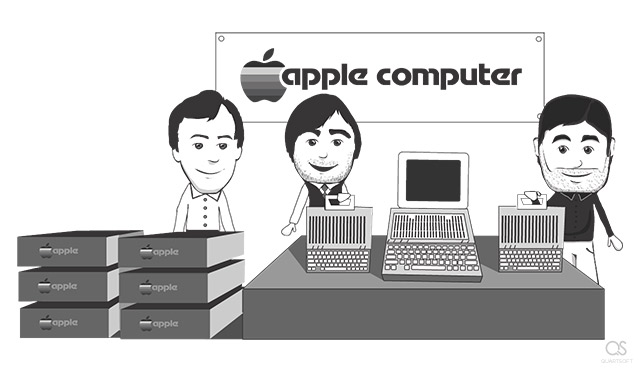 Best moments of Steve Jobs's life: Steve Jobs and Steve Wozniak introduce the Apple II at the first West Coast Computer Faire (1977)
"Steve Jobs didn't really set the direction of my Apple I and Apple II designs but he did the more important part of turning them into a product that would change the world. I don't deny that." – Steve Wozniak
Steve Jobs – the Mercurial Genius
Steve Jobs had been a rather controversial person as a manager, colleague, and friend. But controversy is something that seems to be a part of any genius. Lots of brilliant minds have been criticized and unappreciated by the general public because of their personality during their lives, but the fruits of their work make us stand in awe of their talent, intellect, flair, and charisma.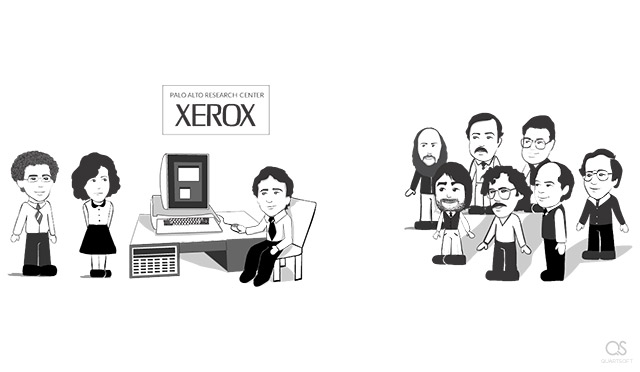 Best moments of Steve Jobs's life: Steve's visit to Xerox PARC with a group of Apple engineers and executives (1979)
"We have always been shameless about stealing great ideas." – Steve Jobs
Yes, Steve Jobs used to be a jerk sometimes. But he was a genius jerk. He seems to be such a genius that Apple employees he treated so harshly are even thankful for his assholeness today because it had helped them push all the limits of the computer world they re-invented. I can imagine what a nightmare it was to work for Steve Jobs for some of his employees and partners. But when I think of all the revolutionary things created under his management and supervision I start to believe that it was worth the pain. I'm sure one must be really tough to get ahead of time and push the others to follow.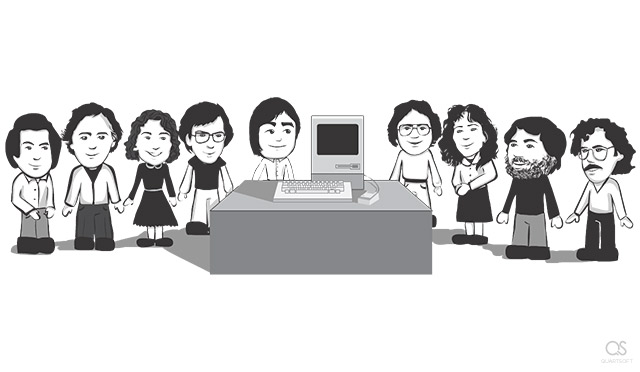 Best moments of Steve Jobs's life: Steve with the original Apple Macintosh team (George Crow, Burrell Smith, Joanna Hoffman, Bud Tribble, Andy Hertzfeld, Susan Kare, Jerry Manock, Bill Atkinson) (1983)
"Mac stands for what we are as a company, taking technology that's out of reach of the people and making it really great. That's what we did with the Apple II, and that's what we're going to do again with Mac." – Steve Jobs
It's true that Steve Jobs had made many mistakes and had some bad failures because of his nasty temper during his management career at Apple and NeXT. His mercurial and defiant personality was the main reason why he was ousted from the company he had started, he was betrayed by people he considered to be like his fathers and many of his good old friends like Steve Wozniak and Dan Kottke used to have a grudge against him. But he was smart and strong enough to persist with his dream to contribute and achieve. His passion, entrepreneurial instinct and audacity finally helped Jobs triumph as an honorary Apple's CEO and idol for many geeks and technology enthusiasts from all over the globe. And what's especially important he learned how to suppress his craziness for everybody's benefit.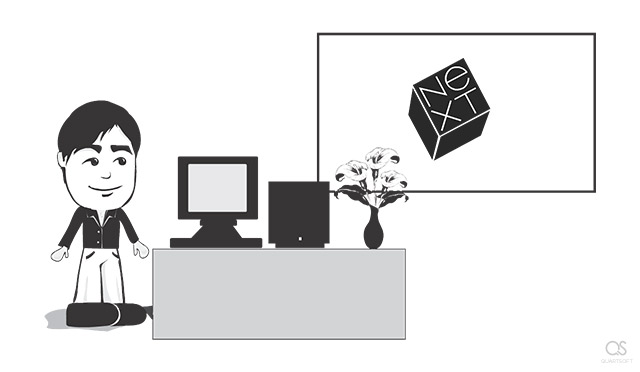 Best moments of Steve Jobs's life: Steve unveils the NeXTcube computer (1988)
"It'll make your jaw drop." – Steve Jobs
Steve Jobs was not a programmer or hardware inventor, but he had that special instinct for what was good and what would revolutionize the future. He had a brilliant intuition of the impact he wanted his brand to have on people. He knew that an outstanding product could be in great demand even if its price is higher than what competitors produced. He did not care about in-house relationships, but he did care about the product. Steve wanted to add value to the product and amaze the world no matter what. Even if he had to break the established rules, lose money and rebel against the majority of skeptics around him. It would be devastatingly frustrating for a normal guy like me but not for such a crazy person like Steve Jobs.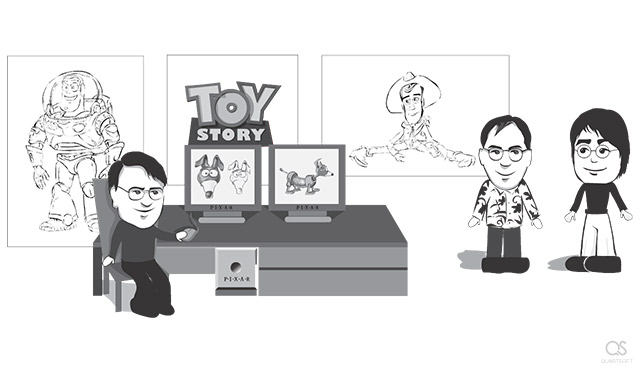 Best moments of Steve Jobs's life: Steve's involvement with the Pixar team and cooperation with John Lasseter during the Toy Story project (1995)
"We believe it's the biggest advance in animation since Walt Disney started it all with the release of Snow White 50 years ago." – Steve Jobs
QuartSoft's Tribute to Steve Jobs
I thought it would be great to pay tribute to the great Steve Jobs on our blog to reflect our admiration and desire to inspire the would-be tech genii with insanely great examples of innovative minds.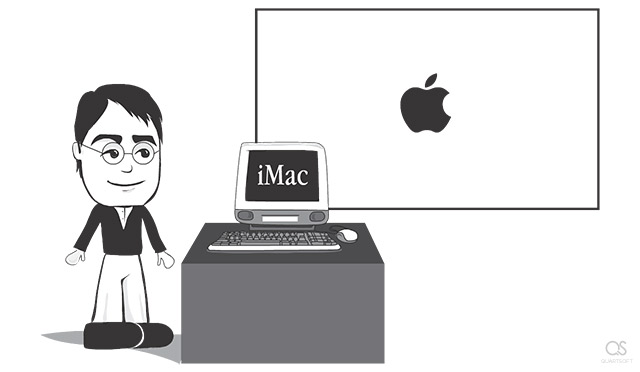 Best moments of Steve Jobs's life: iMac launch after Steve's return to Apple (1998)
"iMac is not just the color or translucence or the shape of the shell. The essence of the iMac is to be the finest possible consumer computer in which each element plays together." – Steve Jobs
So I asked QuartSoft's new illustrator and graphic designer Helen Stoyka to work on this project and help me create the animation. With this animated bio, I wanted not only to capture the key moments of Steve Jobs's life but also to let viewers live a few seconds with him as if observing his life from the sidelines. Of course it's fun to read a bio of a brilliant guy like Steve Jobs, but when reading, our imagination often focuses on main characters and misses lot of details such as appearances, surroundings and other people that interact with the main characters. That's why watching a video can offer us another dimension to perceive the information. The cartoon format also helps us better imagine and recreate the scenes of Steve Jobs's life that have never been captured on film.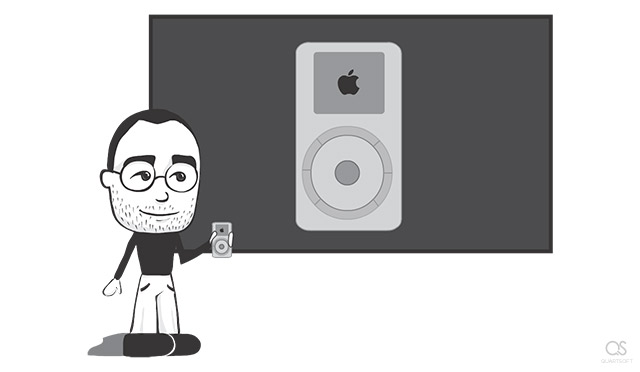 Best moments of Steve Jobs's life: iPod presentation (2001)
"If there was ever a product that catalyzed what's Apple's reason for being, it's this. Because it combines Apple's incredible technology base with Apple's legendary ease of use with Apple's awesome design, it's like, this is what we do. " – Steve Jobs
The following key events in Steve Jobs's life have been featured in the animated bio:
One of the first days of Steve's life with his biological mother and father in San Francisco (1955)
Baby Steve with his adoptive parents (1955)
Jobs family moving from San Francisco to Mountain View, California (1961)
Steve's father is showing him how to work on electronics (1961)
Steve's 4th-grade teacher Imogene Hill bribing him back into learning with candy and money (1965)
Steve Jobs looking at HP 9100A – the first desktop computer in his life (1968)
Bill Fernandez introducing Steve to his neighbor Steve Wozniak (1971)
Steve Wozniak and Steve Jobs using a "blue box" designed by Wozniak to call Vatican City (1972)
Steve Jobs enrolling at Reed College in Portland, Oregon (1972)
Steve dropping out of college (1973)
Steve still attending a course on calligraphy in college (1973)
Steve's first job at Atari (1974)
Steve Jobs's spiritual trip to India with his friend Daniel Kottke (1974)
Steve Jobs and Steve Wozniak selling their stuff to get the first money they needed to print out Apple I circuit boards (1976)
Steve Jobs, Steve Wozniak and Ronald Wayne founding Apple Computers (1976)
Jobs and Wozniak are presenting their computer to the Homebrew Computer Club (1976)
Steve Jobs talking with Paul Terrell about the possibility of selling the Apple I kits in his computer store (1976)
Jobs and Wozniak negotiating the purchase of $15,000 worth of parts needed to fill the Byte Shop order on credit at Cramer Electronics (1976)
The Apple Computer team assembling 50 computers for The Byte Shop in the Jobs family garage (1976)
Steve Jobs delivering the first 50 Apple computers to Paul Terrell (1976)
Mike Markkula investing $92,000 in Apple for about a third ownership in the company (1977)
Steve Jobs presenting the Apple II at the first West Coast Computer Faire (1977)
Steve Jobs is visiting Xerox PARC with a group of Apple engineers and executives in exchange for 100 000 Apple shares at about $10 each (1979)
Jobs working with the Lisa project team (1981)
Jobs attending the annual International Design Conference in Aspen to get inspired with the spare and functional design philosophy of the Bauhaus movement (1981)
Jobs working with the Macintosh project team (1983)
Steve Jobs and Bill Gates discussing the Mac GUI and future cooperation between Apple and Microsoft (1983)
Jobs offering the position of Apple's CEO to Pepsi-Cola president John Sculley (1983)
The Macintosh launch event (1984)
CEO John Sculley and the board firing Steve from Apple (1985)
Establishing NeXT Inc. (1985)
Buying the computer division of George Lucas' ILM for $10 million and incorporating it as Pixar (1986)
Jobs introducing the NeXT cube computer (1988)
Negotiating a cooperation agreement between Pixar and Disney (1991)
Visiting the Pixar team working on the Toy Story animated film (1995)
Steve Jobs returning to Apple as an "informal adviser" to CEO Gil Amelio (1996)
Becoming an interim CEO of Apple (1997)
The peace pact between Apple and Microsoft and the Microsoft's $150 million investment in Apple (1997)
Jobs discussing design of the iMac computer with Jony Ive (1997)
Steve Jobs introducing Apple's revolutionary iMac at the Flint Center auditorium in Cupertino (1998)
The iPod team sharing ideas on the product with Steve Jobs (2001)
Steve Jobs introducing iPod (2001)
Steve Jobs is diagnosed with pancreatic cancer (2003)
Jobs is on a secret meeting discussing the multi-touch technology for the future Apple's cell phone (2005)
Steve Jobs introducing iPhone (2007)
Steve Jobs selecting the right size of the future iPad (2007)
Steve Jobs introducing iPad (2010)
Steve Jobs dies at 56 on October 5, 2011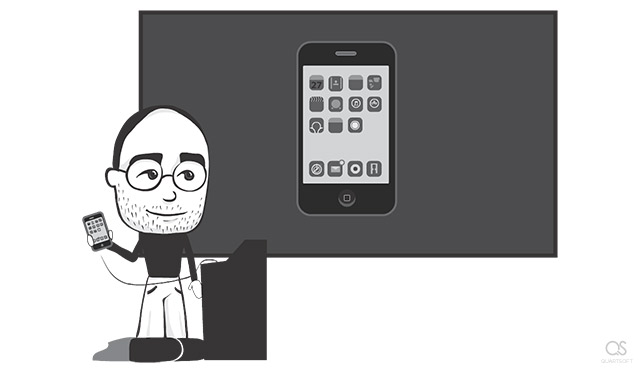 Best moments of Steve Jobs's life: iPhone presentation (2007)
"Every once in a while a revolutionary product comes along that changes everything. It's very fortunate if you can work on just one of these in your career. … Apple's been very fortunate in that it's introduced a few of these." – Steve Jobs
Not only did we capture some key moments of Steve's life but we also did something that cannot be achieved with the plain text of traditional biographies. Using a "meanwhile bar" in the video, we showed some other influential events that were happening around that time in the world of technology as well as in Steve's personal and entrepreneurial life. All those events had directly or indirectly impacted Steve Jobs's destiny and made the very existence of Apple possible. Due to the "meanwhile bar" the video got packed with information. So you'll probably have to watch it more than once to see the central events of Jobs bio and learn what kind of other events were happening at the same time to keep Steve going and fertilized the IT soil for the Apple to grow so fast and nicely.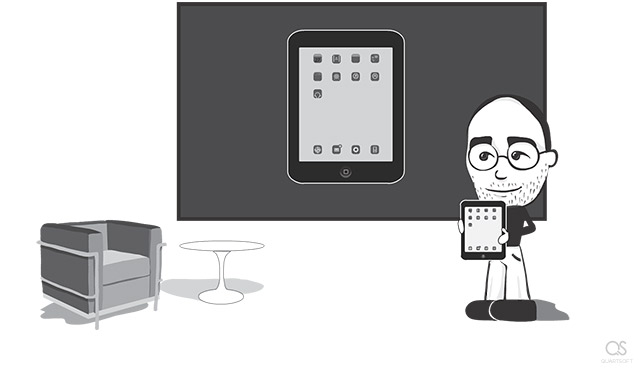 Best moments of Steve Jobs's life: iPad presentation (2010)
"Every once in a while a revolutionary product comes along that changes everything. It's very fortunate if you can work on just one of these in your career. … Apple's been very fortunate in that it's introduced a few of these." – Steve Jobs
In fact, we wanted to add even more "meanwhile" events to the animation but this would make the video even longer. So we decided to create an infographic to hold some extra information for real Apple fans and technology geeks.
We also wanted our audience to see other people who surrounded Jobs such as friends, coworkers and partners. That's why the majority of characters featured in the animation, although being cartoony, bear a certain resemblance to real-life persons who played a significant role in Steve's life and career. This resemblance of secondary and even tertiary characters is something I love the most about the animation, and I'm happy we did not forget some key Apple employees including programmers and designers whose talents and abilities helped Jobs's creativity thrive. Those people are really important. If Jobs was the one who knew exactly where a dent in the Universe could be made, those employees were using their chisels and picks to make that dent possible.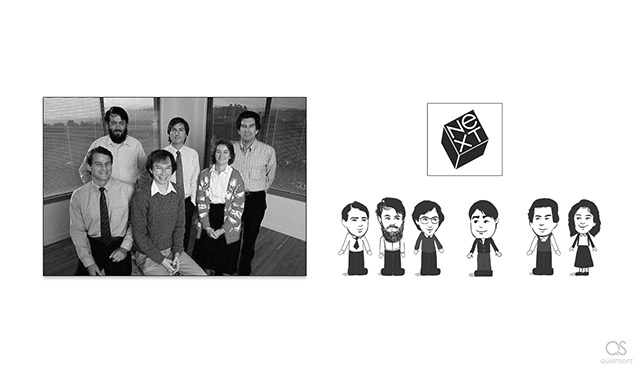 The majority of cartoon characters featured in Steve Jobs animated bio bear a resemblance to real-life Steve's friends, co-workers and partners.
In fact, Steve Jobs was incredibly lucky to have all those talented and inspiring individuals around him starting with his adoptive father and people living in his neighborhood. The rising of the new personal computer era had brought forth lots of talents destined to lay another solid brick in the wall of the human civilization. Steve Jobs was one of the visionary leaders of the new technology revolution. However without hands and brains of such talents as Steve Wozniak, Jef Raskin, Bill Atkinson, Larry Tesler, Burrell Smith, Bud Tribble, Jony Ive and many others Jobs would never have become a cult figure in the digital world. He probably would have never succeeded in building the legendary company without money from Paul Terrell and Mike Markkula and their trust in him and Woz. Even Bill Gates, Apple's eternal adversary, played a big role in making Apple one of the most awesome and loved companies of the world. Not many know that Bill was the one who had helped Apple to get stronger and survive a dangerous crisis. There were also people who had to direct Jobs or otherwise he would have failed early in his career. There were people such as John Sculley who had to play a seemingly negative role in Steve's life but who, in fact, helped Jobs mature and correct some of his management flaws through a bitter lesson to eventually become Apple's CEO. It wouldn't be fair not to give those people credit for their valuable contributions in Apple product execution and financing as well as in inspiring and mentoring of Steve Jobs.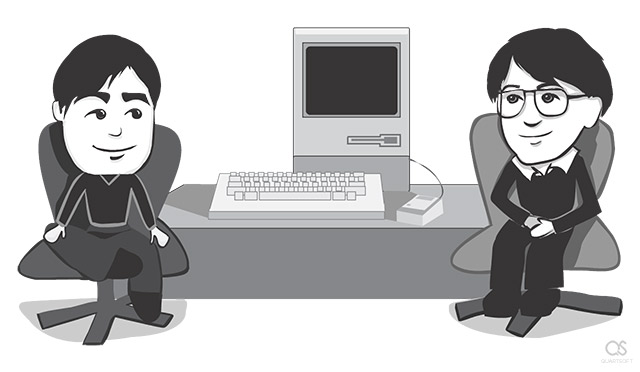 Interestingly enough, Bill Gates was not only Apple's biggest rival but also one of Apple's biggest contributors and investors. In fact he had saved Apple with his money during the company's most serious crisis.
The authors of Steve Jobs animated biography did their best to take into consideration some minor details from the Steve's life. While working on the animation, I was reading the biography of Steve Jobs by Walter Isaacson not to miss such details. For example, when reading the book, I learned some seemingly minor facts such as Steve's head being shaven while in India and him being barefoot when negotiating with Paul Terrell of The Byte Shop as well as with a man in charge at Cramer Electronics. So we have reflected those peculiar facts in our animation for as much historical truth as possible.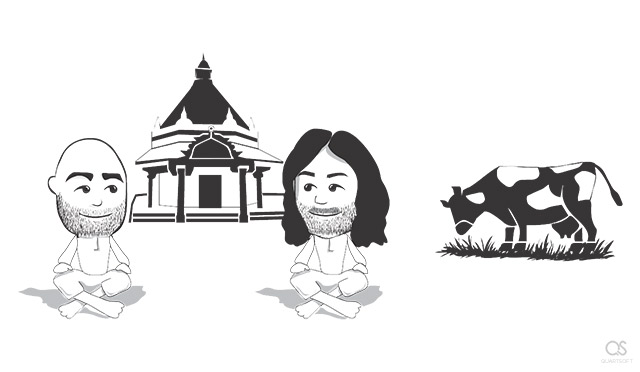 Did you know that Steve Jobs had his head shaven while in India? With our animated bio you can add more historical truth to what you know about Steve's life.
Some old photos of Steve Jobs and Apple employees were used as the reference to draw a few scenes for the animation.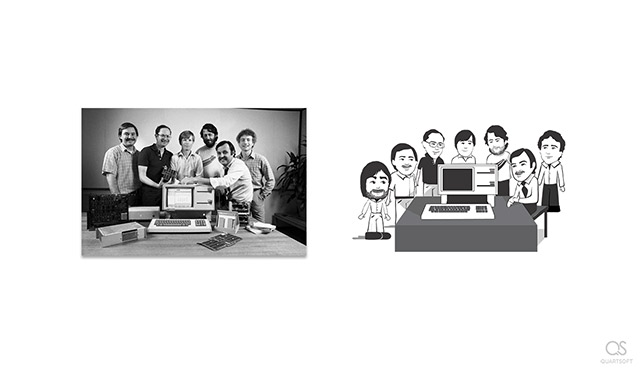 The majority of cartoon characters featured in Steve Jobs animated bio bear a resemblance to real-life Steve's friends, co-workers and partners.
There are a couple of buildings in the video such as Reed College and the Byte Shop. We made sure their cartoon representation would bear resemblance to what they look like in real life.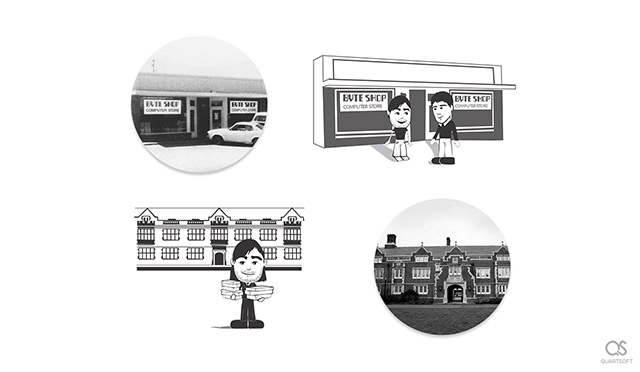 We took into consideration the real-life look of buildings featured in the animated bio of Steve Jobs.
We also took into consideration the real-life look of the computers and other tech equipment featured in the video.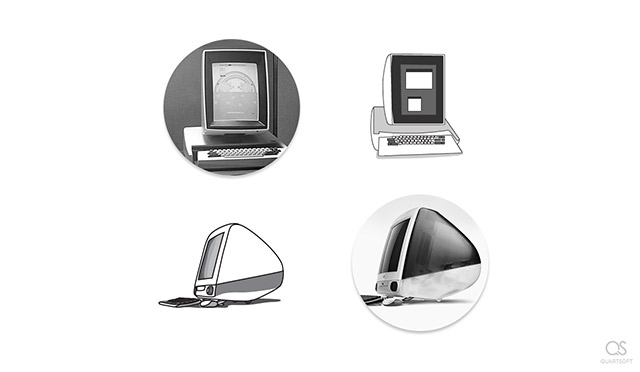 The authors of the animated biography of Steve Jobs made sure the computers and other gadgets featured in the video looked like in real life.
Looking back at the life and legacy of Steve Jobs, I understand the full importance of his contributions to the recent digital revolution that has changed the entire lifestyle of the civilized society. He was capable to find the right people and motivate them for the successful pioneering journey to then-undiscovered realms of information technology. His mission has helped shape the digital world into what we enjoy so much today in times of work and leisure. These are only a few fields where Steve Jobs and his team have changed the IT industry:
Fully assembled personal computer for non-tech users (Apple I, 1976)
Computer with the ability to display color graphics (Apple II, 1977)
Floating and overlapping GUI windows, improved mouse, computer fonts, speech synthesis (Macintosh, 1984)
New standards for 3-D graphics rendering (RenderMan at Pixar, 1980s)
Searchable electronic books and dictionaries, simulated learning environment (NeXTcube, 1988)
Connecting art with technology (iMac, 1998)
Secure online system for selling/buying audio and video content (iTunes, 2001)
Miniature high-capacity storage drive (iPod, 2001)
Digital keyboard, multi-touch display, Gorilla Glass on a portable device (iPhone, 2007)
Ultra compact personal computer (iPad, 2010)
Steve Jobs once said: "One way to remember who you are or want to be is to remember who your heroes are." And Steve Jobs is definitely a hero for many Apple fans. And we want as many people as possible to remember him and keep on proclaiming this great man their hero. We want people to get inspired with the technology's foremost visionary in order to plant a desire to invent and innovate in their hearts. The life of Steve Jobs could be a great lesson for tech entrepreneurs, startup founders, investors as well as technology and design enthusiasts that simply want to impress customers with what they do if not to re-invent or revolutionize the entire industry.
We hope this post will be another QuartSoft's step towards cultivating design and engineering taste as well as popularizing creativity and innovative mindset through inspirational examples from those belonging to the pantheon of the world-changing figures.
Sources
Our primary source for this project was the Steve Jobs biography written by Walter Isaacson. However, the author of the animated biography of Steve Jobs had to read some articles including those of Wikipedia as well as watch videos and check some pictures of Steve Jobs and Apple/NeXT/Pixar team members to properly create the characters and objects featured in the video. Here is a list of some sources of information used for this project:
Books

Videos

Articles

Wikipedia

Pictures and Photo Galleries

Websites Dedicated to Steve Jobs and Apple

Miscellaneous Sources
Authors
Idea and animation: Dmitriy Nesterov
Illustrator: Helen Stoyka
Music: SaReGaMa
Comments: