Success Story: Canvas – SaaS Start-Up
Friday, January 30, 2015
Our company has been helping entrepreneurs build their web-based business platforms since 1999. Since its early history, our team has been behind the sciences of start-ups that tried to struggle their way to success through a fierce competition of the ever-evolving world of digital innovations. We witnessed ups and downs of business ventures and novice entrepreneurs. We saw entrepreneurial passion and disappointments. We saw both start-ups persisting in scaling despite all the troubles and those that pivoted quickly after a few unsuccessful iterations. After so many years of cooperating with entrepreneurs, we got interested in the start-up successes nature. So our Marketing Department has decided to create a series of articles dedicated to start-ups' success stories.
Analyzing start-up failures is no fun and depressing. It's better to focus on success stories to help entrepreneurs who would read this article discover some practical tips and strategies for developing a thriving start-up. The task for our Marketing Department is to distil the most significant and notable milestones in the development of successful business ventures, as well as the most crucial decisions of their founders and ordinary team members. We hope that by following our Start-up Success Story series aspiring entrepreneurs will find a key to success of their businesses.
We'd like to use some text formatting convention in our Success Story articles:
Risky and ineffective steps will be in italics
Crucial and highly successful practices will be highlighted with underlined bold text.
QuartSoft's marketing department is on a constant lookout for promising start-ups that could serve as good examples of the right strategy for team building, product development, advertising, client acquisition, funding, and business expanding. We came across an interesting SaaS start-up called Canvas. It looks like this company has a big future. So we decided to find more information on Canvas to understand what was done to bring the idea to success. And here is a distilled success story we can offer for entrepreneurs to learn from and get inspired.
Meet the CEO
Name: James Quigley
Education: United States Merchant Marine Academy (B.S., Marine Engineering)
Previous Experience:
Service Manager - Latin America at United Technologies Corporation
Regional Sales Manager at Nalco Chemical Company
Director - Products: North & South America at Transamerica Leasing & Finance
Director - Product Management at Orbcomm
Sr. Director - Business Development at Aether Systems
Director of the Mobility Solutions Division at PEAK Technologies
VP & Managing Director - Mobility Solutions at Verisign, Inc.
Vice President & Managing Director - Enterprise Mobility Solutions at inCode Wireless
Personal Qualities:
Highly motivated leader
Understanding of the mobility market and work force management
Outstanding presentation skills
Entrepreneur at heart
The Idea
Canvas is a service that enables businesses to replace expensive and inefficient paper forms with powerful apps on their smartphones and tablets.
Problems to be solved with the product:
Cutting down too many trees to produce paper
Expensive and inefficient paper forms
Filling out the same data on multiple forms
The Team
Hand picking the best team members from day one

Partnering with trusted developers from the founder's past

Starting with the team of only 3 persons
Zero salary and living on personal savings for 6 months
Paying people in stock, options, beer, Xbox's for some time;
No salary for non-coding members including founders for over a year
Exhausting but exhilarating work on the idea whenever there is time
Partnering with an outside team to help build the 2.0 product
Enabling every employee to take their best ideas forward and turn it into impact
Letting the team validate ideas through group thought

Giving developers / designers free reign with 20% of their time to work on suggested ideas

Letting team members act more like owners then employees
Increasing the team around product innovation
Having internal team members

closely focusing on SEO

Having inside sales team members for trial subscribers
Seed Funding
Attempting not to raise money before getting a basic product
Using founders' own savings
Friends and family contacts were early investors
Bootstrapping for 6 months to bank money amid an economic crisis
$20K seed funding
Using the first investment money to buy must have-things like computers etc. but not for salaries.
The Solution
Learning experience of lots of SaaS companies

Signing up for dozens of products to look at their UX & UI, payment processing, subscriber communication etc.

A very minimal viable product created early on with zero money

The MVP serving a few critical needs and unable to scale
A workable MVP with a certain value for customers
Rewriting the code later on
18 months of work from the MVP to a decent customer-appealing product

Engaging the outside help to go past MVP

Adding productivity improvements for more value

Integration with third-party services like Google Drive, Box, Dropbox, Evernote, SAP
Product Features


Capturing information online or offline
Capturing photos/GPS locations
Conditional screens and lists
Calculations;
Workflow and dispatch functionality;
Bringing other databases into apps;
Sharing captured data to other systems and users based on a variety of criteria
Customizable data output
Downloadable pre-built templates
Pre-built Application/Document Store
Shareable cloud storage for customers and businesses (MyCanvas Cloud);
Desktop client
Integrations with Google Drive, Box, Dropbox, Evernote, SAP
Built-in ROI tool
Marketing, Client Acquisition and Retention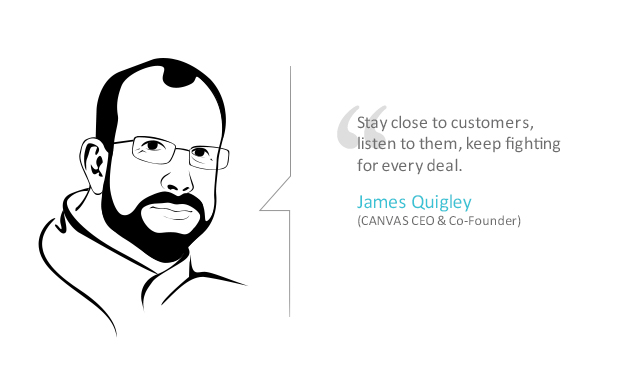 Engaging potential customers to test the idea and see if they pay for it
Listening intently to users' feedback and suggestions on enhancing the product

Early discounts for active ongoing feedback

Old school methods of reaching first customers: cold calling, stalking and knocking on the doors
Finding local prospects in the target community
The first paying customer: a HVAC provider hired on the condition that they become Canvas' first customer
Promoting both money-saving and environmental benefits of the product
Search Engine Optimization (SEO) including a

proprietary app store allowing customers to share specific industry apps created with Canvas

Automated marketing, redirective marketing,

compelling content creation

, advertising

Partnering with wireless carriers

to help promote Canvas' cause

30-day free trial

to convince non-tech-savvy customers;
Establishing of a marketing team;
Affiliate program;
Cloud sharing solution to help Canvas subscribers share digital documents with their customers and thus spread the word about the brand
Built-in ROI tool to show how much money subscribers are saving by using Canvas
Gifting the Canvas application to nonprofit organizations of employees' choice (Ante Up Program)
Using dozens marketing tools such as Kissmetrics (metrics tracking) and Optimizely (A/B testing)
Calling to trial subscribers only after some time in business
Venture Funding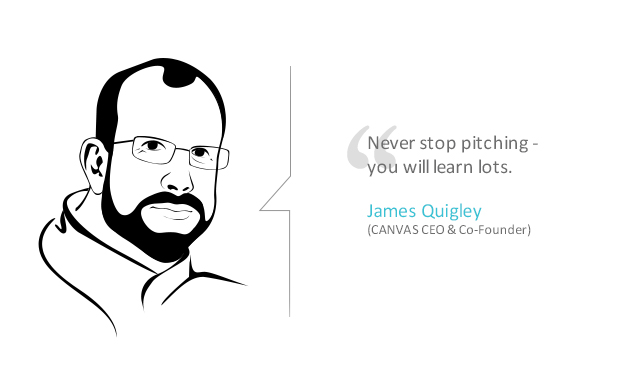 Attending lots of angel pitch events

, asking for introductions to potential angel investors
Using LinkedIn to approach people who could introduce the company to an investor
Creating a

pitch deck

(about 12 slides) to tell the startup story to potential investors
Starting to

pitch venture capitalists years before money is needed

Kurt Warner, a well-known football player and brother of one of the Canvas founders, became one of the first Canvas angel investors
Saying "no" to early investors about changing course on company's vision
Showing investors the knowledge of how to scale the business and increase its value
$750K in series A funding (March 2009) from a small private equity group;
$325K in series A funding (July 2009)
$1.2M in series B funding (July 2011) from Camber Creek and Motorola Solutions Venture Capital
$3M in series C funding (March 2013) from Melanie Perkins
$4M in series C funding (May 2013) from Camber Creek, Osage Venture Partners. Motorola Solutions Venture Capital
$1.8M in venture funding (January 2014);
$9M in venture funding (December 2014) from Camber Creek, Osage Venture Partners, River Cities Capital Funds
Growth and Revenue
Want to protect your software idea? Best way - MOVE FAST.
An average revenue growth of 300-600% a year
Over 45,000 paying subscribers in 65 countries
106 partners including 5 telecoms
Library with 15,000+ pre-built fully customizable apps for 30+ vertical markets
Around 50 employees (end of 2014);
Opening an office in Sydney, Australia
HIPAA Hi-Tech certification;
Strategic partnership with Telstra, Australia's leading telecommunications and information services company;
Raising a financing round of $9 million
Conclusion
One of the main reasons why Canvas proved to be so successful is because their SaaS solves environmental problems besides allowing customers save money on buying paper and managing paperwork. A green and money-saving solution simply cannot be ignored by thousands of businesses. Who wouldn't feel good to save money while saving trees for a greener world?
The question is how to make customers discover the product and love it. What Canvas did is a great lesson for other start-ups willing to harness the power of the World Wide Web for customer acquisition. They let customers submit content to the Canvas web platform (App Store) thus turning customers into volunteer marketers. A significant amount of user-generated content as well as own SEO efforts led to the constant inflow of leads that use Internet search engines to look for problem solutions that Canvas can offer. By investing into SEO and the content sharing platform, Canvas could grow their customer base and revenue successfully and fast to catch venture capitalists' attention.
The Canvas CEO has no problem with selling parts of the company to investors as he believes that a SaaS company should grow fast to win the market. And it's hardly possible to do so without attracting outside funds. So after the first results of a successful SEO strategy the canvas team had something to pitch and have angel investors' attention. Being persistent and regularly attending investment pitch meetings, they eventually managed to raise millions in venture capital to keep their business moving fast and revenue growth well over 100% a year.
No doubt one of the most important success factors for the start-up was Canvas founders' passion, confidence and self-sacrifice. The initial team had no salaries for 6 months and the founders for over a year during the MVP creation period. Not many founders, let alone ordinary team members, can stay loyal to a company for such a long time when paid zero salary. That's probably why every time the Canvas CEO is asked for a tip on how to build a successful start-up, he says that the most crucial thing for an entrepreneur's success is finding co-founders, employees and even investors who are passionate about the idea. With enough passion, he says, one can walk through walls.
By Dmytro Nesterov and Anastasiya Plaksiy
Comments: