Need a Website for Your Fashion Business? Make Sure You Choose the Right Web Designers.
Monday, December 16, 2013
The Ever-Growing Market of Fashion and Beauty
There are hundreds of thousands of businesses built around fashion and the people's desire to look stylish. Thousands more of big and small companies are about to emerge in the industry all over the world. It's a proven fact that looking stylish and beautiful helps us be successful in our personal life and career. Have you ever thought about the fact that for some people their entire fate depends on how good they look and what they wear? Who does not want to be attractive? That's why there is an overwhelming demand for all kinds of fashion items, accessories, cosmetics, perfumery, health & beauty products, jewelry and whatnot. It seems that any product that can make people feel more attractive can find its consumers. The question is whether merchants and manufacturers of such products are able to address their market properly.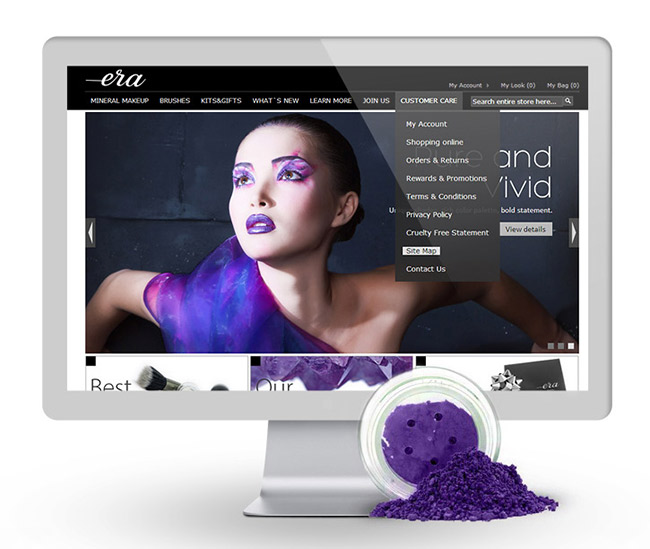 Fashion and beauty industry requires all kinds of websites. QuartSoft Inc. is one of the best web design and development firms offering high quality services to fashion enthusiasts and entrepreneurs.
A Website Is a Must Have for Any Today's Business
There is hardly any person in the modern developed world who does not love what the Internet can offer in regard to searching for information and shopping online. There are more and more consumers preferring purchasing things from online stores rather than brick and mortar shops. Even those who still follow the classic buying tradition often look up for their future purchases online. So if a business fails to have a proper presence in the World Wide Web it certainly loses a large chunk of its market and let the competition gain ground.
A Website for a Fashion Business Requires a Special Approach
Any kind of fashion-related business is about look and feel. Fashion is a special world where design reigns over everything. Fashion brands address to a design sensitive market where consumers purchase products by imperceptible intuition that forms their tastes and preferences in apparel and accessories. This intuition is so subtle that it's hard to influence with traditional marketing methods. However buyers of fashion items can be influenced by equally subtle aura of beauty and style created by fashion companies in everything they do starting from high quality photography of their products to stunning super models they hire to represent their brands. Just look at fashion magazines and catalogues. You can notice lots of hard work by designers and photographers on every page. They are good at creating the atmosphere people want to belong to at least through buying fashion items they see in magazines and ads created by the fashion industry. In order to create such an atmosphere skills alone are not enough. It's a special talent that is required.
The unique atmosphere of beauty and style is an important ingredient for everything related to fashion business including online activity that can comprise corporate websites, online fashion stores, lifestyle blogs, online magazines and inspirational galleries, online model agencies etc. So it does not matter whether you are a modest fashion blogger or a large online boutique owner it would be a shame to ignore the importance of professional web design for your online activities.
What Can a Professional Web Design Firm Offer to a Fashion Business?
I mentioned a "web design firm" in the header for a reason. Unlike individual freelancers, a web design firm is usually a team with an efficient synergy of different talents. That's why when working with a team of web designers and developers you can expect faster and better quality results as each project participant can freely focus on his/her field of expertise and apply their talents at their best while effectively collaborating with other members of the team in the same room. Freelancers, although being cheaper, have to dissipate their attention to make multiple tasks alone or manage their subcontractors that may be scattered as wide apart as across the globe. There are too many things for them to worry about which makes it difficult to fully concentrate their attention on your project and get the most out of their talents. As a result all too often their work is "underdone".
By making a wise decision to hire a team of expert web designers and programmers working in harmony to build the web presence for your fashion related business you can expect some benefits from working with them including the following:
High Quality Graphic Design Tailored for Your Business

Just as design and style is important in fashion it is equally important in web design. Graphic design creates that unique look and feel you want to convey with your business. This look and feel will speak to your target audience's subconscious mind to stimulate their loyalty, trust and confidence. The graphic design part of website building is like creating an artwork. This art is for both people's eyes and hearts. And this is important to entrust this job to a professional artist that will be able to add just enough visual content and design elements to the website in order to give it a neat and tasteful look that would be appropriate for your business and target audience. A professional web designer has this special talent to avoid the image overkill and unnecessary bells and whistles which are often the main problem of inexperienced graphic designers. Uniqueness and creativity are two of the biggest benefits that can be offered by true professionals in web design. Just like two women wearing the same dress at the same party are in an unpleasant situation, a fashion website which design lacks creativity and uniqueness makes a bad impression. Of course it does not stop people from getting cheap or even free templates to base their websites on, but hopefully there are not too many fashion enthusiasts who believe that cheap means good.

One of custom designed websites created by QuartSoft's graphic design team

When designing web pages, professional graphic designers take into account both the future programmer's work and user experience. Their collaboration with web developers (aka web programmers) allows designers to build the perfect page architecture and user interface for a convenient navigation and programming feasibility. That's why it is advisable to hire a web design company offering both graphic design and development services in the same team.

Useful Features for an Online Fashion Business

While the graphic designers' work can be compared to the trade of artists or architects, the work of web developers is similar to construction. Based on what web designers have come up with, web programmers build a fully functional website with custom features necessary for a particular business. Here are a few features fashion business owners might want on their websites:

Fashion Blog or Online Magazine

There is nothing better for a business to engage the audience than a business blog. In fact the blog can serve as an online magazine for any company working in the fashion industry. Magazines have always been the favorite source of information for the fashion community, so when it comes to going online blogging is something that should not be missed out by fashion people. Fashion blogging is a highly effective marketing tool leveraged by both hobbyists and big fashion & lifestyle brands such as Topman, Cosmopilitan and many others.

QuartSoft's blog designers participated in creating a stylish fashion blog for Topman

Blogging efforts helped such brands as footwear company Nicekicks boost their business to the overwhelming level of success. You can find a great deal of fashion blogs of all kinds ranging from simple diaries of a passionate enthusiast to large corporate blogs belonging to household fashion brands. In any case blogs can equalize the chances for success in engaging loyal audience among big and small players in the industry. The best thing about blogs is that they allow readers to subscribe to new updates by email so that blog owners can keep the audience close and listening.

Online Store

The ability to sell and buy things and services online is one of the most groundbreaking inventions for businesses. Lots of retailers saw a considerable increase in their sales and revenue due to the grawing popularity of online shopping. Fashion businesses are not an exception in this eCommerce rush. Online selling opportunities are available for everybody today. Whether you are an individual crafter producing fashion accessories or a large fashion retailer you might want to tap into the latest eCommerce solutions for your business.

Online Rentals and Subscriptions

Online designer handbags and purses rental service built by QuartSoft

Unlike online stores, online rentals and subscription are less known eCommerce solutions. They have already helped create some start-ups with new business models, so they can be interesting for those seeking for fresh fashion business ideas. Fashion entrepreneurs might want to establish online jewelry rental services or designer clothing / accessories rentals. Online magazine subscriptions are also a great opportunity for the existing and future fashion brands.

Online Virtual Try-On

A recently emerged virtual try-on solution helped fashion retailers to convert more reticent clients into loyal online shoppers by allowing them to actually see how clothes or accessories will look on themselves before they make their purchase decisions. A virtual try-on allows online shoppers try the items they want to buy using their web cameras to see whether they fit their body or match their existing apparel, footwear or accessories.

Image and Video Galleries

Why has the Pinterest concept become so popular? It's most probably because people love images. In the case with fashion related pictures, people love to get inspired with great designs or discover fresh look ideas. Visual content can be even more informative than text while it is easier to digest and store. It's especially true with fashion where visuals play a big part in marketing and inspiration. Many business owners had beautiful Pinterest-like image and video galleries built for their websites on the current wave of their popularity.
New Web Presence Trends Fashion Businesses Should Be Aware of
Speaking about fashion, I cannot but mention some trends… I mean trends in building web presence for a business, of course. The majority of the latest trends are connected with the ongoing mobile revolution.
Responsive Web Design

In simple words responsive web design is a web page layout that automatically fits itself to the screen size. It's especially useful in the era of mobile devices such as smartphones and tablets. A website without responsive design is not adapted for small screen mobile phones and cannot be properly viewed by such device users. As a result the online business that fails to build a responsive design site lets the rapidly growing mobile audience stay overboard.

Mobile Website

A mobile website is an alternative to responsive web design. It's an individual site specially designed for smartphones and other mobile devices. Whenever a smartphone user visits your main website he/she is automatically redirected to the mobile website where the layout and content perfectly fit small screens.

Mobile Applications

Fashion games for kids and teenagers (e.g. dressing up games);
Fashion quizzes;
Mobile fashion magazine;
Apps for online fashion design schools;
Fashion show apps;
Augmented reality designer clothes try-on;
Fashion social network to get and share opinions on outfits and style;
Shopaholic app to find and share information on nearby sales and discounts for fashion items;
Fashion model casting and training app;
Fashion marketplace app.

Mobile apps are all the rage today. It's a new and exciting way of delivering your content to your audience. Just like mobile websites and responsive design websites applications simplify access to your content. However an app can provide more interactivity and mobility as it may not even need the Internet connection to supply a user with content. Also it offers an easier and faster navigation than a website. Moreover, having your own mobile application makes it easier for businesses to get found through app stores such as iTunes and Google Play where crowds of their potential customers are looking for new apps to be installed on their mobile devices. As to mobile applications for fashion companies here are only a few ideas I can come up with within a minute:

I am sure that today's technology advances allow experienced mobile application developers to bring even the creasiest fashion apps idea to life. A fashion business can effectively use a mobile application to build a likable brand and improve its brand awareness.
Why Choose QuartSoft as a Web Design Partner for Your Fashion Business
If you arrived on this page looking for web design services provider for your fashion business I can't help asking you to take into consideration our web design firm. Here at QuartSoft Inc. we employ more than 100 professionals in graphic design, web programming and mobile application design. Our experience comprising over 1000 web design and development projects includes custom solutions for fashion related companies.
Here are a few facts about the QuartSoft team:
Developing IT projects since 1999;
More than 100 employees;
More than 1000 web design and development projects successfully completed;
Satisfied client from 25 countries of the world;
40% of smart female employees and a special female team to tackle women-oriented projects;
One of rare companies offering a full design & development cycle including brand identity and logo creation, corporate/eCommerce websites and mobile apps for iOS and Android.
You can learn more about QuartSoft and see our people in the video presentation below:
If you care about high quality web presence for your fashion business we would be happy to help you in building your modern website or blog with that unique look and feel your customer will certainly love. We are also at your disposal if you need help in implementing your fashion startup ideas in the web. Please, contact us for more details.
In any case, whether you are interested in web design for your fashion company or not I hope that this article presenting a look at the fashion business from a web designer's standpoint was a good and useful read for fashion enthusiasts and entrepreneurs visiting this page.
You might also like:
Customer Service Tips for Running a Successful Online Jewelry Shop
Online store for eyewear vendor (our case study)
Comments: