Outsourcing Development to Eastern Europe, Good to Great
Thursday, January 24, 2013
Editor's Note: Being a web / mobile design and development team based in Ukraine, we cannot but rejoice in the fact that Eastern European software and web solution developers are becoming more and more appreciated by customers from all over the globe. A solid quality of final products and professional approach to clients' requirements, deadlines, budgets and needs for a reliable post-production support encourage businesses from Western Europe, America and Australia to choose Eastern European contractors over even cheaper alternatives in other parts of the world. On one of Internet forums we came across a person from Australia who was very pleased with his Ukrainian software development service provider's performance and wished to share his experience. Luckily, we were the first to learn about this man's desire, so we suggested him writing a guest post on our blog to share his thoughts on outsourcing development projects to Eastern Europe.
One of the beautiful things about living in a global economy is the ability to seek out and work with specialist partners wherever they reside.
When researching a software development partner for my startup InsideTrak last year we undertook an exhaustive vendor exploration process and eventually chose a small group based in the Ukraine.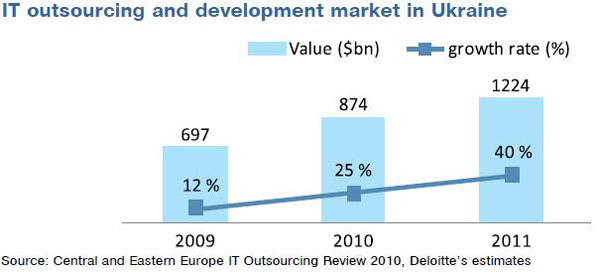 Industry reports also confirm booming IT outsourcing to Eastern Europe and especially to Ukraine
Although there would have been short term cost savings from alternatives in India and The Philippines, it was ultimately the quality of the people and the software development process resulting in greater long-term value, that made choosing a Ukrainian based provider a great decision.
To ensure your ultimate outcome grows from good to great I'd recommend the following:
Specify Requirements Clearly. You can only expect great results by putting the effort in upfront to clearly specifying your requirements by way of detailed Scope Documents and Wireframes (where appropriate).
Use a Top Project Management Platform. We used BaseCamp and found this an excellent way to manage continuous communication across hundreds of 'To Do' items. Discuss your PM platform with the Vendor to ensure they're comfortable with it also.
Share Business Goals. The best development teams will be keen to understand how the software contributes to your business goals and the desired user experience. Sharing this early provides full visibility and allows the vendor to ensure that what they're producing is best of breed for your organization.
Follow these guidelines, set the bar high when choosing your Eastern European vendor, and look forward to a great outcome.
Mike Larsen is the CEO & Founder of InsideTrak a Sydney, Australia based job search engine and reviews website. He was previously a Senior Director at the world's largest careers website, Monster.com.
Comments: