How to Find the Right Mobile and Cloud Application Development Company for Your Projects
Thursday, December 20, 2012
We offer to your attention the transcript of the recent webinar held by QuartSoft's Paul Ryazanov entitled "How to Find the Right Mobile and Cloud Application Development Company for Your Projects".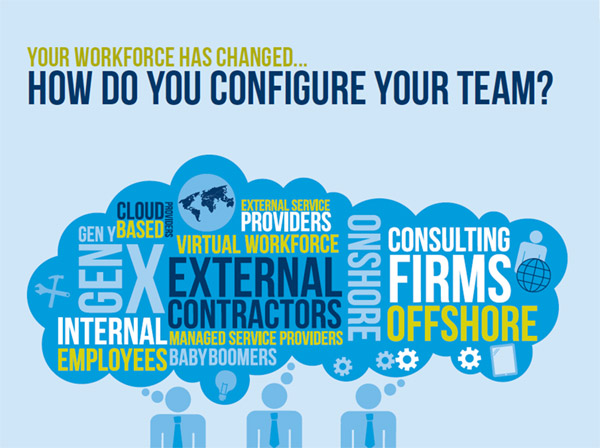 Click for a larger picture
The IT world has changed completely. Cloud development and mobile development trends of 2012 will carry into 2013. The new "Social. Local. Mobile" trend is expected to further expand its marketing role. A growing competition between companies for customers and investors results in huge changes in business development and software development models. More companies attempt to focus on a specific niche and specific issues to be solved. Business ventures are looking for the ways to pre-empt the market with new solutions before their competitors in a more regular basis than it used to be.
That's why it's not surprising that more and more companies have to look into opportunities to rapidly scale development resources and other ways to speed up releases as competition requires including usage of more 3rd party tools and engaging outsourced companies in order to accelerate the development process. Today's technologies help connect people globally to organize virtual meetings and free conference calls. Entrepreneurs and start-ups can now leverage the time difference to ensure the 24/7 development process with international teams.
A growing number of businesses consider cooperation with IT contractors to outsource their development needs fully or partially.
Some companies divide their workflow between internal and external development teams while others invest into their own development workforce and facilities in other countries.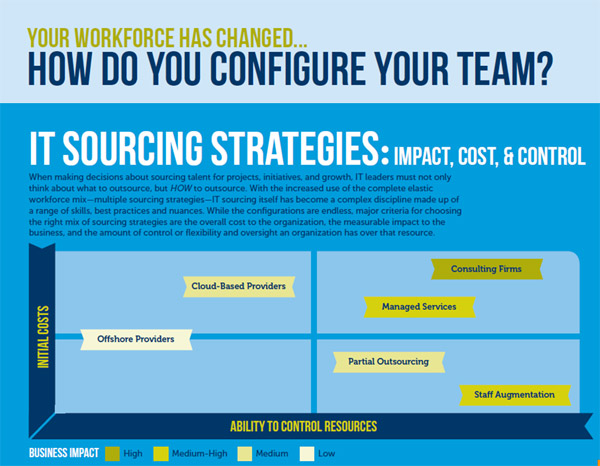 Click for a larger picture
When making decisions about sourcing talent for projects, initiatives, and growth, IT leaders must not only think about what to outsource, but HOW to outsource. With the increased use of the complete elastic workforce mix — multiple sourcing strategies — IT sourcing itself has become a complex discipline made up of a range of skills, best practices and nuances. While the configurations are endless, major criteria for choosing the right mix of sourcing strategies are the overall cost to the organization, the measurable impact to the business, and the amount of control or flexibility and oversight an organization has over that resource.
It's not a secret that the success of any outsourcing scenario largely depends on the service provider you've selected. The first outsourcing experience is likely to determinate how the company will view the idea of outsourced partners in the future.
Obviously, for a positive outsourcing experience it is better to hire a service provider following the best practices from the shown models. A partner that could become a happy middle ground between in-house development and outsourcing.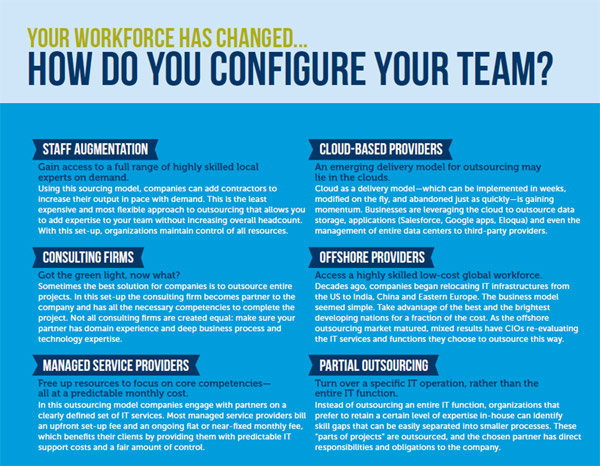 Click for a larger picture
On-Demand Staff Expanding
Get an on-demand access to an entire team of local experts.
Using this sourcing model, companies can involve contractors into their projects to increase the output whenever it is necessary. This is the least expensive and most flexible approach to outsourcing that allows you to engage the additional expertise to your team without increasing the overall headcount. With this set-up, organizations can maintain control of all resources.
Consulting Firms
Got the green light, now what?
Sometimes the best solution for companies is to outsource the entire projects. In this set-up the consulting firm becomes a partner of the company and performs what is necessary to successfully complete the project. Not all consulting firms are competent enough to overcome many challenges involved in IT projects though. Make sure your partner has experience in the domain and a profound expertise in business management and technologies.
Managed Service Providers
Free up resources to focus on your core competencies— all at a predictable monthly cost.
This outsourcing model suggests engaging outsource partners to provide a clearly defined set of IT services. The majority of managed service providers charge an upfront set-up fee and an ongoing flat or near-fixed monthly fee, which benefits their clients by providing them with predictable IT support costs and a fair amount of control.
Cloud-Based Providers
An emerging delivery model for outsourcing may lie in the clouds.
Cloud as a delivery model—which can be implemented in weeks, modified on the fly, and abandoned just as quickly—is gaining momentum. Businesses are leveraging the cloud to outsource data storage, applications (Salesforce, Google apps, Eloqua) and even the management of entire data centers to third-party providers.
Offshore Providers
Access a highly skilled low-cost global workforce.
Decades ago, companies began relocating the IT infrastructures from the US to India, China and Eastern Europe. The business model seemed simple. Take advantage of the best and the brightest from developing nations for a fraction of the cost. As the offshore outsourcing market matured, mixed results have CIOs re-evaluating the IT services and functions they choose to outsource this way.
Partial Outsourcing
Turn over a specific IT operation, rather than the entire IT function.
Instead of outsourcing an entire IT function, organizations that prefer to retain a certain level of expertise in-house can identify skill gaps that can be easily separated into smaller processes. These "parts of projects" are outsourced, and the chosen partner has direct responsibilities and obligations to the company.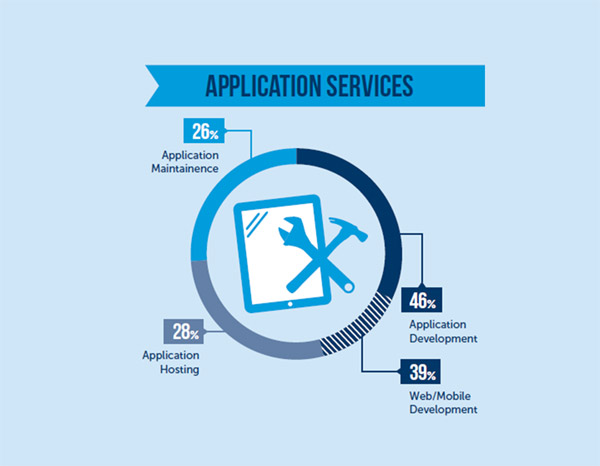 Click for a larger picture
According to a research done by BlueWolf the outsourcing of different application services splits into the following segments:
46% - Application Development
39% - Web/Mobile Development
28% - Application Hosting
26% - Application Maintenance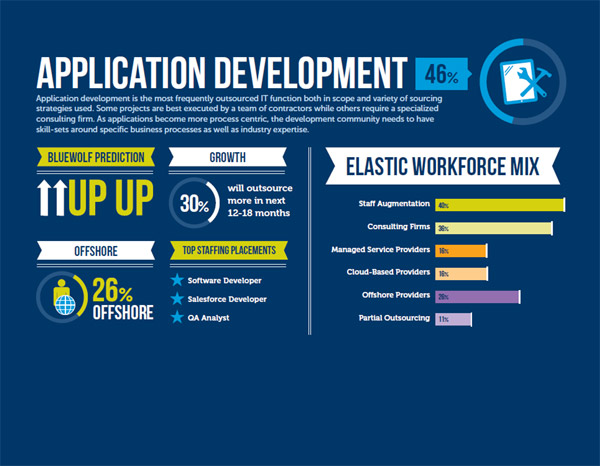 Click for a larger picture
Application development is the most frequently outsourced IT function both in scope and variety of sourcing strategies used. Some projects are best executed by a team of contractors while others require a specialized consulting firm. As applications become more process centric, the development community needs to have skill-sets around specific business processes as well as industry expertise.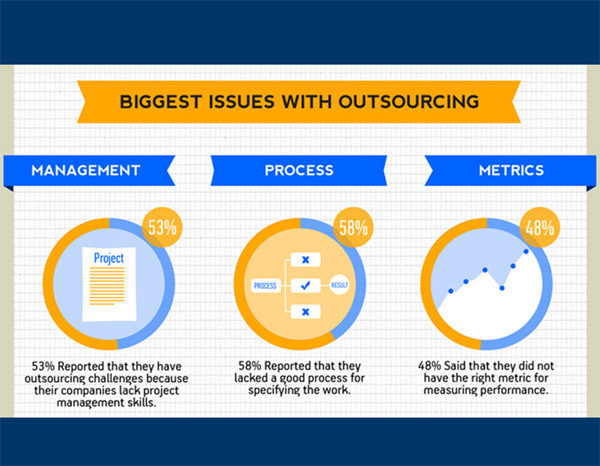 Click for a larger picture
The outsourcing model might be worth every penny not only because of a better pricing deal but also due to a rich expertise of software developers from different countries in specific technologies or niche. Historically it happens so that a country becomes a well-known leader in a certain field. Therefore the specialists from this country are considered to be more productive and qualified than their colleagues from other countries due to their experience.
Let's look at top complaints of clients with a negative outsourcing experience and how our company goes about resolving these issues:
53% of these clients consider the lack of project management skills as the core problem. From our part we eliminate this issue with professional project management tools like Basecamp, Jira, regular reporting and meetings throughout the whole development circle.
58% of unsatisfied clients mentioned an insufficient progress. In our case about 30% of the time associated with a project is analyzing the project requirements and building wireframes which helps us define customer's needs and create an effective progress schedule. So during the development process our team sticks to the agreement provisions and milestones established at the outset. Also we send our customers weekly progress status reports as well as make it possible for them to track the progress in our own testing environment on a daily basis and reach the latest version of the system at any time.
48% of clients mentioned having had a hard time measuring the outsourced team's performance. This is usually the case with customers who are billed for time and expendables. Our team works both on fixed-budget and hourly basis. We prefer projects with well-defined requirements to be able to determine the time frame to plan releases for specific dates.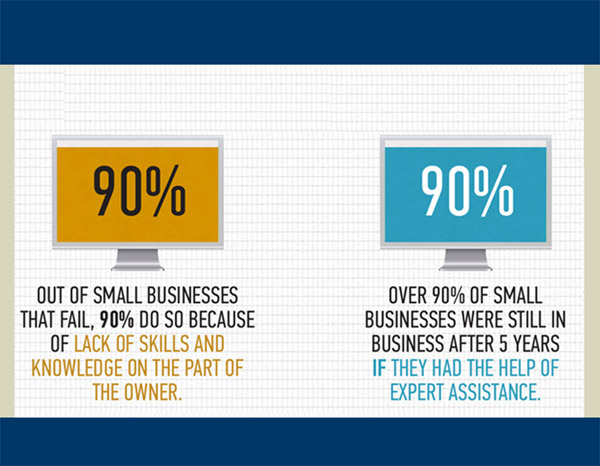 Click for a larger picture
At the same time based on another research – 90% of SMB companies failed due to the lack of skills in a specific area. It means that if they had used help of outside experts to professionally deal with challenges at specific stages, they would have probably stayed in the business.
In this case outsourcing helps small and medium-size companies focus on things within their expertise while outsourcing tasks beyond their range of skills to someone who can cope with them. That's a known fact that at different stages the amount of outsourced services will be different but overall about 30% of tasks might be outsourced including design, development, Internet marketing and even a support center.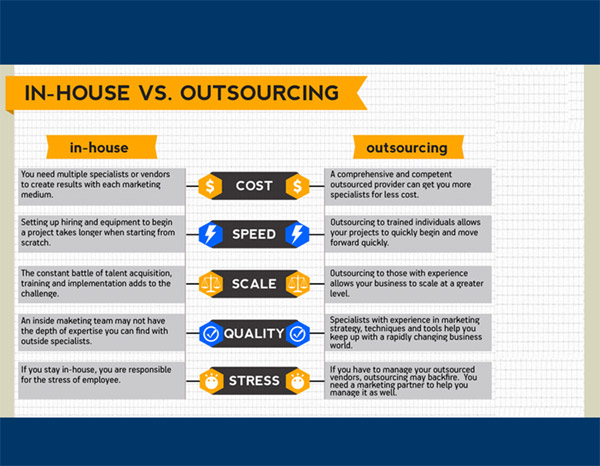 Click for a larger picture
Of course there is an option to employ an expert for the full-time job instead of outsourcing. So let's figure out what the advantages of outsourcing are compared to an in-house employee.
Cost
In-house – you need to invest into at least a few employees for a successful business.
Outsource – an outsourcing partner may already have all necessary specialists in the team while offering attractive fees for the qualified remote help.
Speed
In-house – sometime finding a decent employee with enough skills to handle your projects takes more time than the actual project.
Outsource – you will start monitoring the work progress with a preliminary built team of experts. You will start investing directly to your projects without having to waste time and money to recruit someone permanently in the early days of your project development.
Scale
In-house – it is rather hard for a business owner to scale the team especially at the project outset. Most of the tasks must be completed as needs come up, so there is usually no need for a full-time team. At the same time every available person gets overloaded – it is not an easy decision to expand the in-house staff when the business owner knows that the work on the project is temporary.
Outsource – the outsourcing model allows you to expand and decrease the development team as needed. The business owner can add/replace/remove any person from the outsourced team in a very fast and efficient manner in accordance with the outgoing requirements.
Quality
In-house – if you expect a single person to do everything for the project, you are unlikely to be satisfied with the overall quality of the final product.
Outsource – you might have experts in different fields working together for top-notch services and successful products. Most of outsourcing partners look for long term cooperation and care for their reputation, so they would be glad to offer you their best specialists to meet your needs.
Stress
In-house – managing of own employee traditionally results in better control. But finding a person with required skills and experience as well as firing or demoting a person who worked in the company are usually regarded as a rather stressful situation.
Outsource – while sometime outsourcing is said to be a stressful model, you may rely on a right outsourced partner same as on an in-house employee.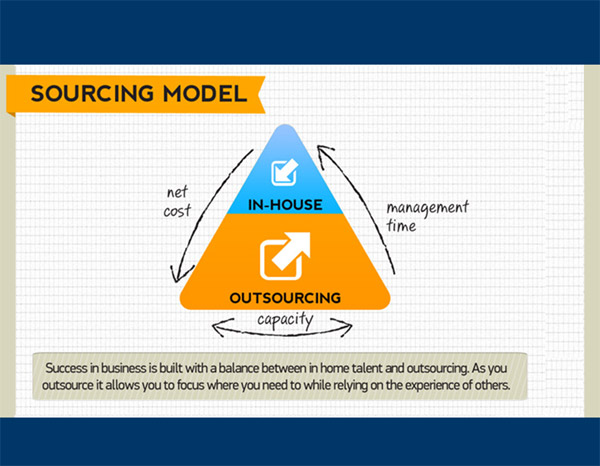 Click for a larger picture
The best model that you might want to leverage would be the combination of the in-house specialist workforce with outsourced services. Based on your business requirements, you might identify which parts of your application development project need a closer monitoring and which ones you may delegate to your outsourcing partner.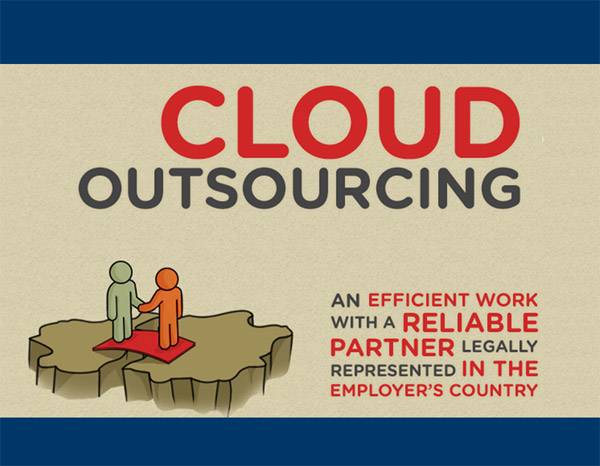 Click for a larger picture
QuartSoft advocates the new business model of the "cloud" outsourcing which suggests a very tight integration of the offshore team with the employer's staff to enable quick responses to changes, rapid scaling up and downsizing of the team in accordance with the current needs as well as engaging additional resources at short notice.
A traditional outsourcing model may constitute serious risks for customer's intellectual property and trade secrets. We have already established our official branches in the USA to fulfill contracts governed by the US legislation, including copyright laws.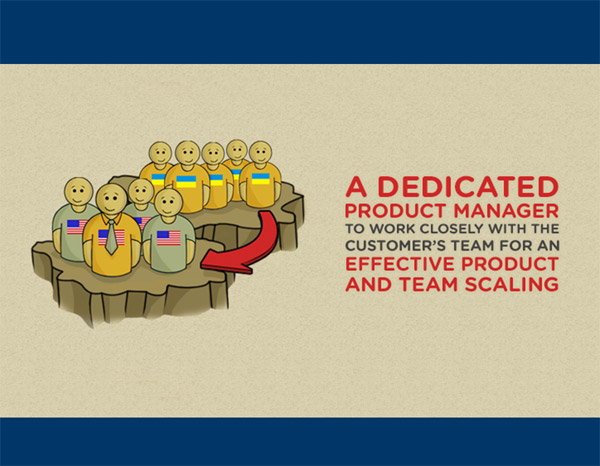 Click for a larger picture
Unlike traditional outsourcing the cloud outsourcing approach suggests appointment of an English-speaking dedicated Product Manager in the service provider's team to closely work with a customer. For example, QuartSoft has a savvy product management team located in Silicon Valley which makes it possible for both parties to organize personal meetings without time difference inconveniences and language barriers.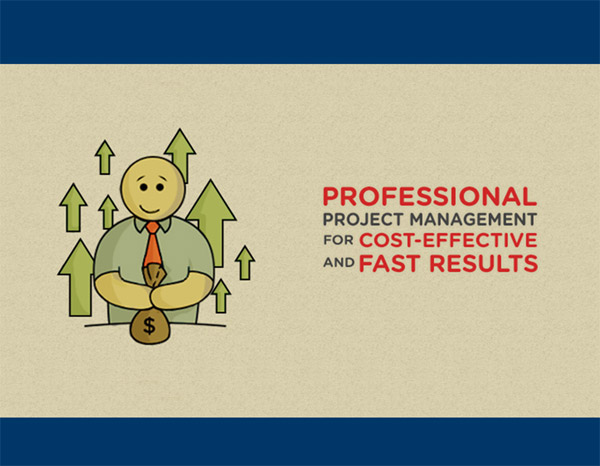 Click for a larger picture
The "cloud" outsourcing model gives employers a long leeway to freely form a dedicated team by choosing necessary experts from the contractor's big staff. Therefore the employer selects only the right skills and only in times when they are necessary with a possibility of cancellation or team member(s) replacement at any time. There are also benefits of a long-term cooperation and life-time support that employers can enjoy when working with a solid "cloud team".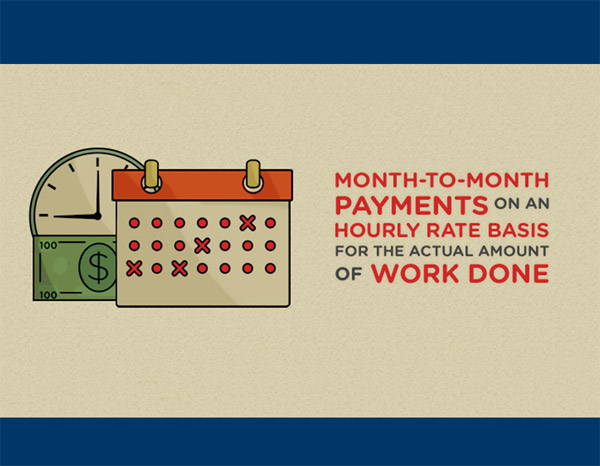 Click for a larger picture
Month-to-month payment on an hourly rate basis. Customers pay only for the actual amount of work done.
Unlike others, the "cloud" outsourcing business model is based on openness, trust and honesty in relationships with a customer. It gives customers the opportunity to really enjoy the quality of services they get.
Comments: