The New Era of Cloud Development
Friday, October 19, 2012
Using a cloud model for building systems and platforms is becoming a usual practice these days. Many major corporations are in the process of migrating their solutions to the cloud. Corporations are actively competing in the market. Such companies as Amazon, Rackspace, SoftLayer, Microsoft, HP, Dell, IBM, VMware and some others have introduced their own cloud solutions.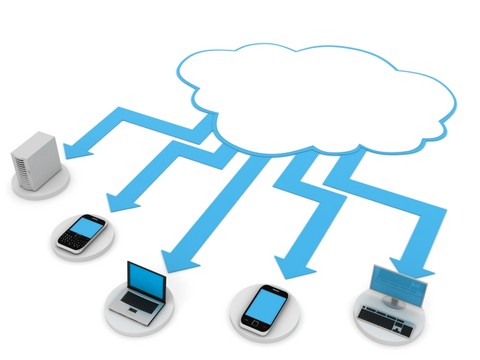 The development of cloud services is determined by the desire of small and medium-sized businesses to reduce maintenance costs of their own IT resources and the growing popularity of third-party services. The cloud structure opens up an exciting possibility for technology companies to effectively scale their business online at a fastest possible pace as well as to pay only for the consumed resources. Thus, for example, a projects infrastructure may suggest usage of 100% capacity during peak hours when the load increases and reduction thereof up to 30% at other times.
At the moment, the undisputed leader in the market is Amazon AWS, which is, according to data from various sources, owns 60% of the market.
According to an Amazon's official the full transition to the cloud architecture will happen in the next 10-20 years. Many call this the era of web 3.0
Deploying own architecture is a resource-intensive and costly process as there are numerous support issues, while the "cloud" model allows consolidation and optimization of resources providing a high level of security.
It should be noted that recently there were discussions of "cloud" systems varieties. Today cloud systems are divided into the public and private cloud.
Development of Private Cloud is an expected solution for corporations to avail of the cloud technology and extra security of the firewall protected infrastructure.
What to Expect from the Cloud Infrastructure?
Firstly, the competition between services results in more intensive development of additional services and improvements of components to enhance performance. Thus, AWS has been launching more new services such as DynamoDB (a noSQL solution), SES (Simple Email Service).
Secondly, the development of cloud services has nudged a lot of corporations and large companies to look into open source solutions that can be adapted to the cloud infrastructure. Cloud services allow for a fresh look at the development process. Now, there are not only developer communities which promote the idea of open source development, but also some companies effectively introducing and implementing these practices. For example, Netflix, the US' largest media provider, is one of companies supporting open source cloud solutions.
Netflix, which has been working on platform migration to AWS-cloud, for example, is currently developing their open source project and repository at http://github.com/netflix Thus, companies attract the development community's attention, so the best practices of continuous delivery and deployment are expected to be introduced along with better attitudes and smarter approaches.
Large companies are willing to cooperate and develop solutions that can be used by others. Netflix's recently introduced two services can be great examples. One of them is Simian Army (Chaos Monkey) allowing a random stoppage of the EC2 instance in the AWS cloud to enable system testing. The entire code is in the public domain
Another product is Asguard which enables the AWS architecture management and system deployment control. Another good example would be development of a new open source platform which offers a possibility for users to build their own "cloud" model using the Openstack.org open-source project being implemented by a lot of employees / developers from a number of companies such as:
Rackspace (787)
HP (753)
Independent developers (297)
Cisco (41)
Canonical (28)
Dreamhost (24)
Red Hat (22)
Nebula (22)
CloudScaling (17)
OpenStack employees (14)
Morphlabs (13)
EMC (13)
Dell (13)
SUSE (10)
Piston Cloud (10)
Yahoo (5)
IBM (5)
AT&T (5)
Tipit (4)
OpsCode (4)
Thirdly, the development of cloud systems and migration to cloud technology have significantly contributed to emerging of independent products delivered as SaaS services which resulted in creation of entire application libraries. For example, AWS launched the AWS Marketplace service. Rackspace, in their turn, launched the AppMatcher platform.
Large SaaS platforms also enable third-party companies to develop and upload their own solutions for the platforms. Thus, for example, AppExchange was launched for SalesForce http://appexchange.salesforce.com and even our friendly staff at the go.magento.com SaaS is following trends in development and installation of third-party plug-ins in the cloud.
Cloud Is Our Future
According to recent surveys, over 90% of organizations tend to or committed to implement the "cloud" infrastructure within the next 3 years. For example, AMD plans to reduce the number of centers to 3 in 2014.
Comments: