Bring Your Startup Ideas to Life with QuartSoft
Friday, May 25, 2012
Innovations are the driving force for a lot of new services emerging each day in the digital era we are living in today. Here in the SF Bay Area we observe hundreds of entrepreneurs coming to the Silicon Valley with the hope of becoming another Google or Apple.
Our company is proud of working in the very center of the Silicon Valley where a lot of innovative ideas are generated and brought to life. We do our best to be involved in this process of technological evolution by providing our support to startups with all our skills and experience acquired over years of working in the domain of web development.
Our team with a huge expertise in building robust fully-featured web platforms for emerging startups is always open for cooperation with aspiring entrepreneurs who are looking for IT professionals providing the cutting-edge support and assistance in their ideas implementation at the best rates and on attractive conditions beginning from the concept stage through the seed stage and to the beta release of a product or service.
Not only we provide new startups with an entire production team consisting of highly skilled graphic designers, web / mobile developers and QA engineers but also we engage our experienced product managers to help with important business decisions and strategies.
Over the last 3 years our team has been involved in implementing multiple startup projects that won various awards and received investment. We believe that our skills and experience can make your startup a success as well.
Below you can check websites of some startups we helped bring to the world:
Startup for Storing, Searching and Sharing Voice Recordings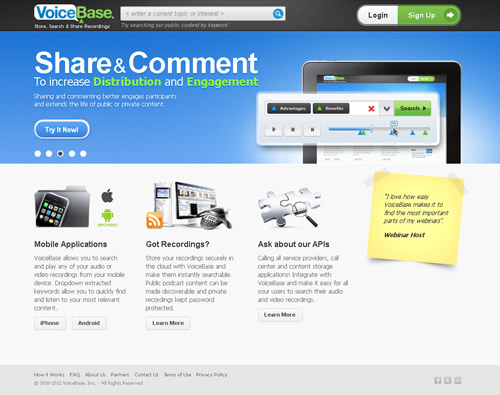 VoiceBase - a unique and very promising startup utilizing voice recognition technologies to allow users to store, search and share video and audio voice recordings. Imagine it as a Wikipedia-like platform for media content. VoiceBase is a SaaS solution based on the Amazon cloud service for private members, companies and enterprise customers. Our team has been working "behind the scenes" on this startup project to support it with our skills including graphic design, development and maintenance. Being a DEMO Conference 2010 winner and after raising 750K in Series A round funding, this startup is growing really fast.
Video Sharing Platform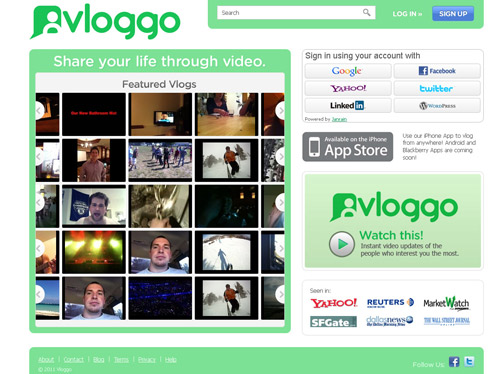 Vloggo - another attempt to build a Twitter-like platform for video sharing. This amazing service allows people share their life experience with 60 sec video clips recorded with various devices and in different ways – manual upload, webcam recording and an iPhone application. The system uses the Amazon cloud infrastructure including Amazon EC2, Amazon S3 and Amazon Cloud Front. The Vloggo service was recognized at StartEngine in Los Angeles.
Online Collaboration Platform for Attorneys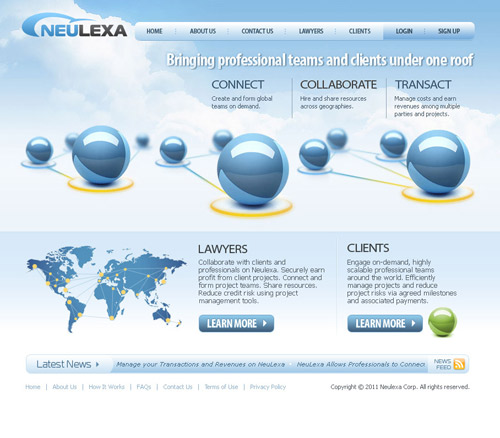 Neulexa – a self-funded startup which combines CRM tools for teams to organize their business inside the cloud-based service. The system allows organizing secure document storage and sharing as well as collaboration on projects. The system is specially developed for attorneys and it features extra security and data protection. In addition Neulexa handles billing activities and reporting.
Online System for Real Estate Investors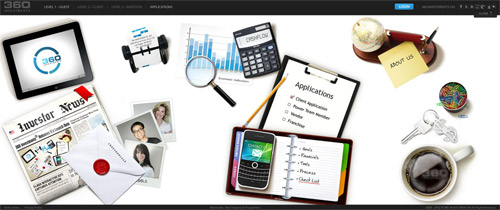 360investments – a SaaS startup in the domain of real estate. The system utilized technologies and innovative ways of managing a real estate investor's office with special online tools. 360investments has all necessary features to organize and manage a real estate investor's daily routine, communications, data updates etc.
Some representatives of our team were honored to be invited as special guest to the official launch ceremony for the 360investments platform in Los Angeles.

Every day our team works hard to help innovative startups emerge and grow. We provide aspiring businesses with a strong web presence which is essential for any startup's evolution and success. Our experience, professional human resources and attractive cooperation conditions make QuartSoft Corp. your reliable IT partner helping your startup company overcome many challenges on the way to recognition and success. Should you have any queries or require any further information, please, do not hesitate to contact us.
Comments: