Certified Scrum Master class by Jeff McKenna.
Tuesday, September 13, 2011
Last week QuartSoft Corp. attended pretty interesting training - Certified Scrum master class by Jeff McKenna. It was really interesting 2 days event with alot of information, practice and games. So exciting to see Jeff, who is one of the founders of Scrum here in Kiev, even more excite to know him personally right now.
So what is SCM? Its pretty useful training for clients, managers and even developers, QA, designers about the way how communication and progress suppose to work for common benefits. It was true experience based on fifty years of real practice and development of projects by Jeff with different teams and companies.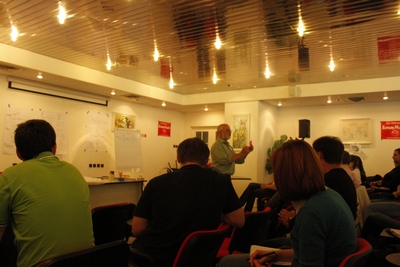 This training combine 2 days of the master class and the 3rd day was an open conference. 
Event organized by Scrum Master group and talking in advance it was pretty professional organization of the event starting from  comfortable seats, coffee breaks and lunch time.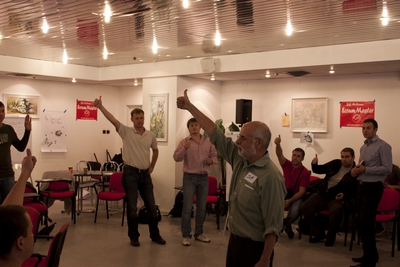 The first day was all about introduction of Scrum process. Starting from speech of each members about himself, reason for coming to this training and specific questions he is interesting to discuss. Then it was a mix with learn and play. Really simple learning with a simple games. Within couple of hours mix of members in different team, team work and presentations. It was amazing to play "ball" game specially to get filling of the planning and estimation. There was one to one session about problems noted by member in his own organization or team. There was numbers of presentations made by teams about specific Scrum management process, roles and meetings. The interesting point that even education schedule and management of these training made with Scrum and thats why it was easy to way to learn.
The second day is all about Agile game - we had to group based on different years of experience with Agile and demonstrate how we can handle management with Agile based on pretty easy tasks. There was product owner, scrum master and teams with 6 min sprints. Every new sprint you are getting new tasks, estimate them, prioritize backlog, create a spint back log, start spring, complete and present a demo. Retrospect every sprint and calculate how efficient your team was. 
Same process repeat again with a new product owner and master. Its funny - blow a balls, making hats, calculating numbers or even searching for a card from a deck or building card house. End of the day we received an option to ask any specific question and answers. Overall was really satisfied with the class, level of organization.
Our last day was an open training with 4 different sessions. Unlike many other similar training - Jeff really an expert in management. Within about 40 min he group whole team (guess there was about 50 persons who attend) into 4 different teams. We vote for specific problems outlining by team and brainstorm them altogether. It was mainly team work and conference running by members not Jeff. Great experience and so many ideas coming during such unformal communication. 
We got some interesting points and confirmed ideas/plans with Jeff.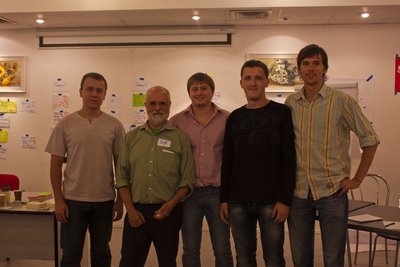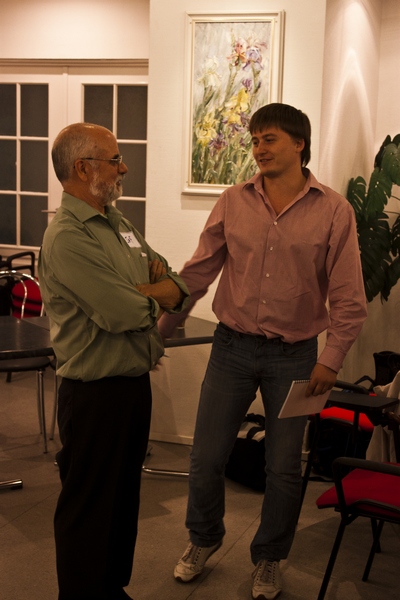 So nice event and wonderful trainer!
Paul Ryazanov,
Director of marketing
Comments: